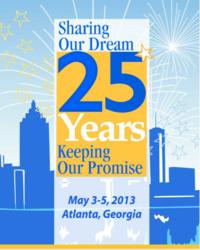 Summit, NJ (PRWEB) May 02, 2013
Family Promise will convene May 3-5 at the Grand Hyatt Atlanta in Buckhead to celebrate its twenty-fifth anniversary as a national organization. The conference theme is, "Sharing Our Dream, Keeping Our Promise," reflecting the organization's collective accomplishments over the last quarter century as well as the aspiration to shape communities and end family homelessness.
To kick off the conference on Friday evening, our featured keynote speaker will be Andrew Young, former Atlanta mayor, congressman and Ambassador to the UN, as well as a stalwart of the Civil Rights Movement. The three-day gathering will include workshops and sessions aimed at Family Promise staff, board members and volunteers. Presenters will include staff, Affiliate leaders and experts from across the country.
Karen Olson, President and Founder of Family Promise, said, "Atlanta is the perfect location for our 25th anniversary celebration. As the birthplace and home of Rev. Dr. Martin Luther King, Atlanta stands as a symbol for economic justice and the rights of children to grow up free of the fear and uncertainty that comes with poverty and homelessness. What better place to come together and celebrate the work we do to help families in need?"
Family Promise is a national nonprofit organization dedicated to helping homeless and low-income families achieve sustainable independence. We are based in Summit, New Jersey, where we began our work in 1988, founded on the belief that Americans are compassionate people who want to make a difference. Today we have 182 Affiliates in 41 states, with more in development. Our programs engage more than 160,000 volunteers and provide assistance to more than 50,000 family members annually.