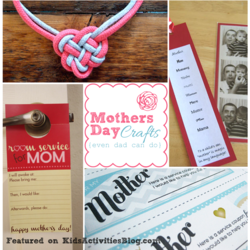 Dads and kids will have lots of fun making cool handmade crafts for Mom this year.
Dallas, Texas (PRWEB) May 03, 2013
Mother's Day is around the corner. Over 8 simple Mother's Day crafts that Dad can make together with the kids have been released on Kids Activities Blog. These Mother's Day gifts are easy to make at home, come from the heart, and will truly be appreciated by Mom.
The Mother's Day craft ideas include making family photo bookmarks, printing service coupons for chores to be done in the house, making a special wishes jar for Mom to keep on the kitchen counter as needed, and making a super cool summer necklace with a few easy to do knots.
Additional ideas include making her a favorite super sweet candy jar, creating her special Mother's Day cards, and making a free room service sign for her door knob the evening before Mother's Day. The free room service sign template can be printed off Kids Activities Blog. Making a Mother's Day breakfast in bed is always a Mom's favorite treat.
For detailed instructions and to get additional Mother's Day gift ideas, check out Kids Activities Blog this week. Come get inspired to let the kids and Dad treat Mom this year in a very special way.
About Kids Activities Blog
Kids Activities Blog is a website created by two moms (who collectively have 9 children), Rachel Miller and Holly Homer from June Cleaver Nirvana. It is their daily goal to inspire parents and teachers to play with kids. This interactive website publishes simple things to do with kids twice a day. Kids Activities Blog is a great tool for moms and teachers to find kid-friendly activities that create memories and sneak learning into the fun.