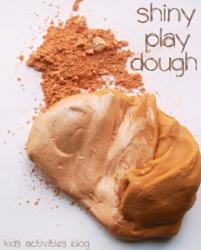 Upcycle old play dough by adding a spark or making herbal scented play dough.
Dallas, TX (PRWEB) May 13, 2013
Let it shine today by mixing up super shiny play dough for kids with cool play dough recipes released on Kids Activities Blog.
Kids love play dough and they simply love everything shiny, glittery, or sparkling. Why not upcycle the play dough at home today?
Making shiny play dough is simple and can be easily done with items found around the house. Upcycle a batch of play dough or use any of the cool play dough recipe ideas featured on Kids Activities Blog by adding magic shiny ingredients. Materials needed are old eyeshadow or other shiny make up power or use other materials such as glitter, small shiny beads, sequins, markers, or demerara sugar.
Add the shiny ingredient and let the kids help with mixing it into the play dough. Playing with play dough is great for motor skill as well as attention span development.
Cool play dough recipe and activity ideas include making herbal scented play dough, creating edible play dough by mixing peanut butter and marshmallows, and learning about mother earth by building a fun earth play dough ball.
For detailed instructions and to get additional fun play dough ideas, check out Kids Activities Blog. Come get the kids inspired to have some fun with cool play dough this summer.
About Kids Activities Blog
Kids Activities Blog is a website created by two moms (who collectively have 9 children), Rachel Miller and Holly Homer from June Cleaver Nirvana. It is their daily goal to inspire parents and teachers to play with kids. This interactive website publishes simple things to do with kids twice a day. Kids Activities Blog is a great tool for moms and teachers to find kid-friendly activities that create memories and sneak learning into the fun.