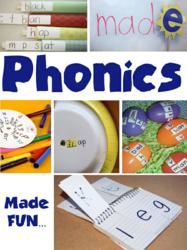 Go on an alphabet shopping spree at home and see the fun the kids are having while sounding out words.
Dallas, TX (PRWEB) May 14, 2013
Fun starting to read activities have been released on Kids Activities Blog. The phonics activities sneak in lots of great reading practice while playing fun games. The kids will have a blast with these fun games. They increase phonemic awareness and start the kids on the right reading path.
The fun reading activities include making a magic E wand to transform mad into made. A flip over E wheel makes new words as the wheel is turned. Playing the candy land word game can be turned into a reading lesson by using sight words to help the child win the game.
Playing word family eggs and word pulls are two of the ingenious games that will sneak in lots of reading practice while having a blast.
Let the child go on a word shopping spree at home. He or she will love to explore the house and find all kinds of objects while practicing to sound out words. Variation of the game can be played according to the child's age.
For detailed instructions and to get additional fun phonetic games, check out Kids Activities Blog this week. Come get inspired to get the kids on the right reading path while having lots of fun.
About Kids Activities Blog
Kids Activities Blog is a website created by two moms (who collectively have 9 children), Rachel Miller and Holly Homer from June Cleaver Nirvana. It is their daily goal to inspire parents and teachers to play with kids. This interactive website publishes simple things to do with kids twice a day. Kids Activities Blog is a great tool for moms and teachers to find kid-friendly activities that create memories and sneak learning into the fun.