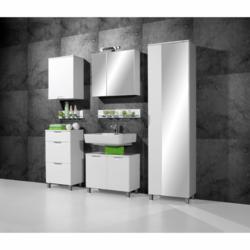 (PRWEB UK) 22 May 2013
In keeping with its reputation for creating furniture that is both stylish and functionally inspired, FurnitureInFashion introduces its new Liquid White bathroom furniture range. This comprehensive range of bathroom fittings includes a mirrored bathroom cabinet, a wall cabinet with a high gloss white front, a freestanding high gloss front bathroom cabinet, a vanity cabinet without a wash basin, a cabinet with mirror, a wall mounted shelf and a display shelf. The Liquid White bathroom furniture range is part of a complete solution for the modern home's requirements. It is an absolutely stunning fusion of Italian design concepts with the reliability of German manufacturing processes to create customized furniture of the highest quality.
The Liquid White bathroom range is a stunning combination of style and functionality. The mirrored bathroom cabinet is an amazing furniture piece, in an extravagant white finish. It is an outstanding illuminated bathroom cabinet with a mirrored front. The cabinet has two glass shelves, providing efficient storage space. It is a matchless solution for bathroom storage and display. The width of this mirrored cabinet is 70cm, with a depth of 25 cm and a height of 70cm.
The Liquid White bathroom furniture range offers white bathroom wall cabinets with a high gloss white front. It is a gorgeous bathroom wall cabinet, featuring a gloss foiled white front. This white cabinet has stylish metal handles for that trendy look. It has one shelf and has a door damper for a soft closing action. With a width of 50cm, a depth of 30cm and a height o f70cm, this cabinet is an ideal storage and display solution for the modern bathroom.
The Liquid White bathroom range offers a fabulous freestanding bathroom cabinet with a glossy white MDF front. The cabinet has been stylish feet, not only for a great look but also to protect the floor from any scratches. The freestanding bathroom cabinet has white drawers with metal handles adding a touch of class. One of the best features of this cabinet is the soft close function. The cabinet is 50cm wide, 35cm deep and 85cm high. This bathroom range offers a stunning bathroom vanity unit, without a basin. It is a floor standing unit and is a wonderful piece of furniture, with plenty of storage space. The white doors are finished in foiled gloss and have metal handles.
To provide maximum storage, this bathroom furniture range offers a stunning high gloss mirrored bathroom cabinet with four shelves. It is a modern floor standing bathroom unit with a tall front mirror and is raised on four feet for stability. Another storage option is a small wall mounted bathroom shelf in a high gloss white finish. This shelf can be doubled or tripled to create a long unit. To provide a multipurpose storage solution, this range also offers a wall mounted display shelf in high gloss white which can be used in any room.
The CEO and Managing Director of FurnitureInFashion told the media that the UK market has a serious need for quality bathroom products which are unlike those offered by other outlets. It is the aim of FurnitureInFashion to provide complete quality bathroom furniture ranges in a one stop shop.
To have a look at their affordable bathroom ranges online and to place a pre-stock order, please visit the company website today at http://www.furnitureinfashion.net. The range of value for money bathroom ranges available on the website is huge, delivery is fast, savings are massive and the quality is guaranteed.
About FurnitureInFashion
FurnitureInFashion is a UK based online retail business. It supplies furniture from its German based warehouse and has a showroom in Bolton, UK. The company provides everything from umbrella stands, to wall art and room dividers to bedroom furniture and from bar stools to computer tables. FurnitureInFashion offers an excellent free delivery service within UK and takes pride in its fantastic customer service. For further information and details, please visit http://www.furnitureinfashion.net