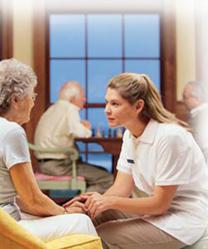 Working with Concept Rehab, a leader in rehabilitation, is a natural for St. Clare Commons
PERRYSBURG, OH (PRWEB) May 02, 2013
St. Clare Commons announced a new care partner: Concept Rehab Inc. (CRI) of Toledo. CRI has been serving therapy needs of skilled nursing rehabilitation communities since 1984.
Currently with more than 600 employees, CRI has a proven record of hiring top notch physical, occupational, speech and other therapists who are specialists in their respective areas, particularly working with seniors.
CRI is very active in the National Association for the Support of Long Term Care, and numerous other state associations including Ohio Health Care Association, Leading Age Ohio, Ohio Academy of Nursing Homes, Health Care Association of Michigan, and other key associations in Ohio, Michigan and Pennsylvania.
Unlike many other contract companies, CRI's hallmark for over almost 30 years has been partnering with the entire healthcare team. Concept Rehab Inc. recognizes the importance of being responsive to the needs of all members of the care team and strives to develop the relationships necessary to achieve the highest potential for all residents.
CRI's goal is to respond immediately to all issues in an approachable, flexible and creative manner. Facilitating communication and partnerships between therapy and community staff, assisting with strategic planning and program enhancement initiatives, proactively participating with legislative issues and changes that impact the delivery of care to seniors are all part of their mission.
Shawn Litten, Executive Director of St. Clare Commons says that working with Concept Rehab Inc. is a natural fit. Just like St. Clare Commons and the Sisters of St. Francis, Sylvania, Concept Rehab Inc. believes in serving educational needs of professional caregivers and the community, too.
CRI is dedicated to assisting all residents in maintaining their highest level of independent functioning through fun, interactive, and creative treatment sessions. True to St. Clare Commons's philosophy of treating each person as an individual, CRI addresses each resident uniquely to create individualized treatment plans with treatment sessions that are geared toward their particular interests, hobbies, and functional needs. Maintaining this focus generates a motivating and trusting therapy environment that enables strong functional outcomes and satisfied customers.
Acknowledged by many customers and consultants, CRI has been recognized for services considered "Best in Class" including Toledo Business Journal's Best of Lake Erie West for several years running.
A state-of-the-art therapy lab and a team who is up-to-the-minute in rehabilitation treatments is a must for St. Clare Commons who is already forging a new era in senior living with technology, amenities, services, and options.
St. Clare Commons, which will be a Continuing Care Retirement Community when complete, will open in a few phases. Phase One, offering Assisted Living, specialized Dementia Care, and Nursing/Rehabilitation levels, will open later this year.
For more information, contact Jessica or Rachel at 419-931-0050 or email info(at)stclarecommons(dot)org
####
REVERENCE SERVICE STEWARDSHIP
St. Clare Commons is a member of Franciscan Living Communities and Sylvania Franciscan Health and is sponsored by the Sisters of St. Francis of Sylvania, Ohio, in partnership with Blessed John XXIII Catholic Community and the Toledo Diocese. Franciscan Living Communities is a leading non-profit provider of senior living services to 1,200 residents in communities throughout Ohio and Kentucky offering continuing care, independent living, assisted living, rehabilitation, skilled nursing, memory care and adult services. In all relationships, Franciscan Living Communities members commit to Reverence for, Service to, and Stewardship of the whole person with whom they interact, whether it is a resident, coworker, or part of the greater community.