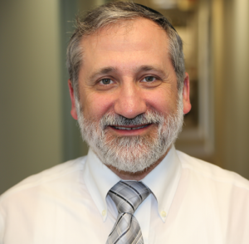 Cleveland, OH (PRWEB) May 02, 2013
A very unique opportunity was presented this year to Cleveland ophthalmologist, Michael Rom, M.D. In January, Dr. Rom was invited to speak to almost 250 fellow ophthalmologists at the 2013 Ophthalmic Microsurgical conference in Israel.
"Being able to connect with my colleagues in another country, to be that connection to new technology in a way that they had not experienced before, that was really special," says Dr. Rom.
Dr. Rom delivered his lectures in English, but was able to answer questions in Hebrew, allowing for him to share specific business tips and experiences in a way that his colleagues could grasp and understand. The main subject of Dr. Rom's lectures was ORA (Optiwave Refractive Analysis). ORA is an intraoperative aberrometer that allows Dr. Rom to provide Cleveland cataract patients with real-time measurements during cataract surgery. This was a unique opportunity not only to talk to foreign colleagues, but to speak on a topic in which they had no experience because in a rare instance, the FDA has approved the technology before Europe.
"The people of Israel are very technologically advanced, but have not had experience with something like ORA," says Dr. Rom. "This was exciting to be able to show them such a simple procedure, but with so much upside. I feel like this is the next leap in what we can offer patients. Everyone hopes and dreams that they can give premium care and make patients happy, and this gives us peace of mind that we are offering premium care."
Dr. Rom says he hopes that he was able to make an impact by sharing his knowledge and hopefully growing the profession. "It's about the quest for knowledge and practical knowledge. You can show people stats and graphs, but still a lot of professionals want to hear about the practicality and the clinical implications for the patient. I feel a sense of accomplishment, I was able to go to another country, speak with people I've never met, and connect on a professional level."
About Dr. Rom:
Dr. Michael Rom is a Board-Certified ophthalmologist who specializes in cataract and LASIK surgery. He completed his ophthalmology residency at the Cleveland Clinic Foundation.
In his 18 years of ophthalmic experience, Dr. Rom has performed over 19,000 cataracts/glaucoma procedures, and 18,000 LASIK procedures. His ophthalmology practice has flourished because he is so well liked by his patients and because his reputation for great patient care and service. Their comfort and care are his top priority.
Insight Eye Center:
Mentor
(440) 205-5840
9485 Mentor Ave., Suite 200
Mentor, OH 44060
Chardon
(440) 286-1188
13170 Ravenna Rd, Suite 204
Chardon, OH 44024
http://www.insighteyecenter.com
https://www.facebook.com/pages/Insight-Eye-Center-Office-of-Michael-E-Rom-MD/268243653202000