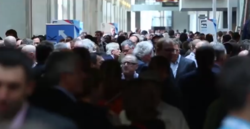 Lightfair just solidified what we all knew, that LED lamps are the new standard in lighting
Philadelphia, PA (PRWEB) May 01, 2013
While Leapfrog Lighting News & Insights reported that there were no obvious breakthrough products at Lightfair 2013—mainly incremental improvements on existing technologies—there was one clear lighting trend at Lightfair 2013, an annual architectural and commercial lighting trade show and conference: the rise of LED lamps as the new conventional lamp. Read our earlier reports here>>
"Lightfair just solidified what we all knew, that LED lamps are the new standard in lighting," explained Stephen Naor, CEO of Leapfrog Lighting, a specialist in LED lamps for commercial applications. "And it's our goal to continue making breakthroughs in our research and design so we can provide the top performing LED lamps with the highest quality light available. We plan to set the standard in high-end LED lamps so we can help expedite the widespread adoption of this technology."
Despite LED's pervasive theme at the show, Leapfrog Lighting News characterized the conference as evolutionary rather than revolutionary. Yet, it could also be characterized as the harbinger of the death of CFL bulbs—and eventually all fluorescents—with only a handful of T8 or T5 fluorescents evident on the floor.
LEDs quickly rose to mainstream status in televisions and computer monitors, and now are set to be the norm for energy-efficient, high quality lighting. Architects, designers and facility managers—important attendees of Lightfair 2013—have embraced LED lighting for consistent quality of lighting, low heat and efficiency. This year's show emphasized a wide diversity in LED solutions, from retrofit bulbs made by virtually every major manufacturer, to digital control products designed to work with LED lighting.
Leapfrog Lighting News & Insights also noted a dominance of LED technologies in the LFI Innovation awards, with more than 200 entries in nearly all the categories that featured LED technologies in some way. Among these were Dow Corning—traditionally thought of as an industry chemical company—winning for moldable silicone used in LED lamps.
Dow Corning was one of many non-lighting manufacturers who appear to have incorporated LED technologies in their mix. Appliance manufacturers and chemical companies were nominated alongside traditional lighting companies.
Sharp launched Tiger Zenigata LEDs, the first single point light source with variable color temperature on a substrate. Featured alongside Tiger was Smart Digital Lighting System, designed to allow network control of lumens, brightness, CRI and CCT. Seoul Semiconductor's Acrich2 LED modules, used for downlight applications, eliminate the need for a driver. Bridgelux announced commercial availability of VERO LED arrays, known for their onboard connector port.
Read more in Leapfrog Lighting News>>
Leapfrog Lighting News is a report from Leapfrog Lighting, an innovation leader in LED lamps. The current Leapfrog Lighting product line includes MR16, PAR30, PAR38 and PAR20 lamps that provide industry-leading output power through high-efficiency LED source and driver electronics. The innovative lens design creates a pleasing, glare-free light suitable for use in all indoor and unexposed outdoor down-lighting applications. The lamps also deliver the high CRI and ultra-consistent color temperature control critical to multi-lamp applications in hotels, restaurants, schools, office buildings, museums, galleries, retail operations and other public spaces. With a life expectancy of 40,000 operating hours, these UL-registered lamps will provide more than 27 years of service at 4 hours per day.