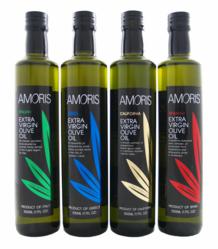 New York, NY (PRWEB) May 02, 2013
OliveOilLovers.com, an internet retailer featuring premium-quality extra virgin olive oils from around the world, announced the release of "Amoris", their new line of regional olive oils.
Amoris, to be sold exclusively through OliveOilLovers.com, will consist of four different varieties of olive oils from four popular olive oil producing areas: Italy, Spain, Greece and California.
"We are very excited to launch the Amoris line as we feel these are some of the best olive oils each production area has to offer," said Joanne Lacina, President of OliveOilLovers.com. "Not only was our goal to offer Amoris at a fantastic value, but it allows the customer to try the best oils from each production region."
While the website currently features many different brands and varieties from Italy, Spain and Greece, the release of the California variety marks the first non-Mediterranean olive oil sold on OliveOilLovers.com. The addition comes in advance of a new range of products from other continents to be sold in the later months of 2013.
"California is really becoming an important player in the olive oil industry," said Lacina. "Some really fantastic oils are being produced in the region and we're proud to offer one of the best as part of our Amoris line."
Opened in October 2012, OliveOilLovers.com features over 50 olive oils and ships anywhere in the United States. The company plans to continue its expansion to promote more of the world's best olive oils and to provide consumer education throughout 2013.
About OliveOilLovers.com
OliveOilLovers.com is an internet retailer selling premium-quality olive oils from the world's top producers. With organic, infused and flavored oils as well as olive oil gift sets, the website sells a wide selection of high-quality oils at competitive prices.