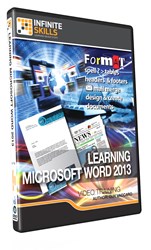 Learn Microsoft Office 2013 At Your Own Speed
(PRWEB) May 03, 2013
Software training firm InfiniteSkills Inc. this week released its "Learning Microsoft Word 2013 Tutorial," a course designed to teach new and experienced Word users to maximize the programs capabilities, including new options for integrating documents with cloud services and social media.
Microsoft Word was first issued in the mid-1980s, and, since 1995, has been the market-leader word processor for personal computers. The 2013 release provides the same reliable and easy-to-use document formatting and word processing features, while allowing users to publish documents directly to blogs and social networks, as well as more easily interact with cloud services.
InfiniteSkills' Learning Microsoft Word 2013 offers a in-depth look at the new capabilities and the fundamentals of document creation using Word, providing even experienced users a broad understanding of the program's powerful tools.
Learning Microsoft Word 2013 Tutorial Video - DVD
Course author, Guy Vaccaro has more than 15 years' experience using and teaching Word and the entire Windows Office Suite. He has substantial experience teaching in a classroom, writing manuals, and training in computer-based formats. In addition to a comprehensive knowledge of Word, Vaccaro also works intensively with Excel and Windows database management solutions.
"There are tons of new features in Word 2013," Vaccaro explains. "Primarily these concern the ability to integrate your documents with the internet. This includes saving documents and using items saved on the cloud, but also the ability to publish your documents directly as blog posts or updates to social networks."
After explaining the basics like opening a document, entering text, and working with document properties, Vaccaro explores all of Words powerful capabilities for creating and formatting documents, explaining how to work with text using features like bold, italics, and underline; and how to work with paragraph alignment, using bullets, and more.
Advanced topics include sections on printing and print preview, advanced paragraph formatting, working with headers and footers, and advanced tables.
Many of the new features are covered in chapters that explain the Mail Merge feature, which allows users to transfer data directly from Word or Excel into emails, working with SmartArt to integrate graphic elements into your documents, and a chapter covering the new web features such as how to edit documents online and publishing to a blog or social network.
Free demo videos and a full list of course contents can be found on the Learning Microsoft Word 2013 Video Tutorial training page of the InfiniteSkills website:
http://www.infiniteskills.com/training/learning-microsoft-word-2013.html
InfiniteSkills offers its Learning Microsoft Word 2013 Video Tutorial either as a DVD or a direct download from the company website at a retail price of $99.95. All InfiniteSkills titles and formats are compatible with Mac and Windows operating systems. Shipping is available around the globe. Additionally, InfiniteSkills tutorials are supported by project files which correspond to examples in the videos, allowing users to work alongside experienced instructors right on their computer or iPad.
About InfiniteSkills Inc.
A leader in the field of software training, InfiniteSkills strives to offer the highest quality training available at an affordable cost. InfiniteSkills tutorials are task-oriented instructional videos, teaching complex skills by providing hands-on examples and guiding users as they carry out critical objectives. InfiniteSkills offers a comprehensive range of software titles available as DVDs, digital downloads, and in iPad editions, keeping with company aim of delivering professional training to customers anywhere they want to learn.