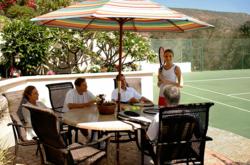 "If someone is struggling with addiction and decides to get clean, they should be able to handle that situation privately." - Pax Prentiss
Malibu, CA (PRWEB) May 07, 2013
Tyrann Mathieu, former star defense back at Louisiana State University, defended the school that dismissed him and criticized the coaches that formerly competed with him for publicly disclosing details about his private medical history.
Mathieu was a promising punt returner, during his brief collegiate athletic career and was recently drafted in the third round of the 2013 NFL Draft by the Arizona Cardinals.
A recent article in USA Today quoted Mathieu as saying:
"It is irresponsible and shows a lack of integrity for anyone to disclose medical information regardless of how it was gathered," Mathieu said. "I would expect that conversations regarding my drug testing history during the course of my medical treatment would be private.
"LSU has a strong drug testing program and LSU went to great lengths to help me in my treatment and recovery. I understand that many people enjoy reading about the negative side of sports, but to publish those second-hand comments without being given a chance to address that comment prior to the publication of the article is irresponsible."
Mathieu was encouraged to go to enroll in substance rehabilitation and counseling by LSU officials and has repeatedly expressed his willingness to get clean, despite the reported trouble repeatedly failing drug tests.
"Both professional and college athletes compete under tremendous pressure," said Pax Prentiss, CEO of Passages Addiction Treatment Centers, "If someone is struggling with addiction and decides to get clean, they should be able to handle that situation privately. At Passages we provide holistic, alternative treatment in a luxury setting, with extraordinary emphasis on privacy and confidentiality. If someone makes the choice to take back their life and start a new journey, the last thing they need is unnecessary negative attention. For the thousands of clients that have come through our doors, Passages is a safe haven, a sanctuary."
At Passages Malibu - Addiction Ends Here™
About Passages Malibu & Passages Ventura:
Father and son team Chris and Pax Prentiss founded Passages Malibu in 2001. Its second location, Passages Ventura, first opened its doors in 2009. The two alcohol and drug abuse treatment centers offer an alternative to the 12 step/AA model of addiction treatment by utilizing a holistic program that focuses on the underlying issues of substance dependency, rather than attributing addiction to an incurable disease.
Both Passages Malibu and Passages Ventura accept insurance and each have earned the coveted Joint Commission (JCAHO) accreditation, which has only been given to 6% of the nation's behavioral health treatment programs.
Passages Malibu was named the #1 treatment center in the world by Healthcare Global, one of the "Most Luxurious Places to Dry Out" by Forbes magazine, and the Huffington Post recently acknowledged Passages as a center that "caters to a high-end crowd, with many CEOs, entrepreneurs and high-powered professionals among its clients."
The co-founders are also authors of an acclaimed series of addiction treatment books, including their groundbreaking, flagship title, The Alcoholism & Addiction Cure.
For general inquiries about treatment, contact: 866-233-1753.
For media inquiries, contact:
press(at)passagesmalibu(dot)com