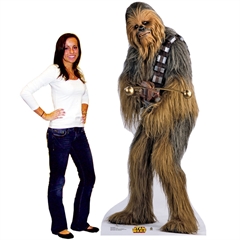 Chicago, IL (PRWEB) May 02, 2013
Thanks to Star Wars-crazed fans, May 4th has become "May the Fourth be with you", a day of celebrating all things Star Wars. The "holiday" was created fairly recently, but has been going strong for the past few years. Chicagoland online party supplies retailer, Windy City Novelties, wishes to help its Star Wars fans celebrate the holiday by providing them with Star Wars costumes, costume accessories, and party supplies.
May Fourth, or "Star Wars Day", received its first official organized celebration on May 4th, 2011. This particular day in the year was made popular due to one of the most famous lines from the Star Wars Saga: "May the force be with you." It is unknown who actually invented the holiday, but it is clear that it was created by Star Wars superfans. However, in 2005 during an interview with George Lucas, Star Wars creator, for a German television show, Lucas quoted the famous line "May the force be with you," and the German interpreter wrongly interpreted the sentence as "We shall be with you on May 4."
Windy City Novelties allows its customers to celebrate the special day with their Star Wars product line. This year, May 4th falls on a Saturday, encouraging fans everywhere to go all out for the holiday. The retailer sells countless Star Wars costumes, including almost every character throughout the series, and in many variations. From Jedis to Storm Troopers, the retailer provides it all, for both children and adults. The women can dress up as their favorite version of Princess Leia, or as a female Jedi. For the biggest fans, Windy City Novelties provides Collector's Edition Star Wars Costumes.
For those that do not wish to dress up in full costume on May The Fourth Be With You, or want to make their own, Windy City Novelties provides Star Wars costume accessories. Masks of Stormtroopers, Clone Troopers, Darth Vader, Yoda, and more, are available. Customers can also choose from a large selection of light sabers or space guns. The retailer carries the traditional Star Wars light sabers of red and blue, but also provides other fun colors.
Windy City Novelties also provides Star Wars party supplies and decorations for respective Star Wars Day parties, or for children's birthday parties. The retailer provides decorations in the form of galaxy scene setters, Star Wars danglers and banners, as well as Star Wars character stand ups for great photo opportunities. Hosts can serve drinks and food on Star Wars paper goods.
For more information on Star Wars Day check out the official website here: http://maythe4th.starwars.com/
ABOUT WINDY CITY NOVELTIES
Windy City Novelties, a party supply company founded in 1983, is known for their great selection and competitively priced items. They have an A+ rating from the Better Business Bureau and are also a NexTag 5 star Seller. From their website, windycitynovelties.com, they offer fast and friendly shipping along with great customer service. From glow sticks in every color of the rainbow, to party decorations in a variety of themes, and even a vast selection of Halloween costumes at the best prices, Windy City Novelties has over 15,000 products and adds more each week. Windy City Novelties also provides party and gift ideas and advice. For help or more suggestions, email our experts.