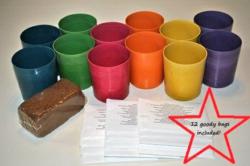 "...thecrayonhouse.com is on my favorites sites list. As a teacher, I love that I can print pictures quickly in case I need a quick activity." - Emily, NJ.
Lebanon NJ (PRWEB) May 03, 2013
PartiesToGrow.com offers a complete flower party favors kit. The flower party favor includes the pot, fresh seeds, potting material and a carry bag. These kits are pack 12 - 2 of each color pot, 2 of each seed variety, 12 carry bags, and potting medium. Completely customizable, these party favros can be decorated to match any themed party for a boy or a girl. Also, the pots are made of bio-degradable bamboo which breaks down organically.
TheCrayonHouse.com provides coloring pages to print and color. There are pictures for birthdays, holidays, occasions, life topics, and many other adventures. There are also pages for learning how to spell, learning first words, and other types of eduational lessons. Many teachers use this site as a classroom tool because it is easy to navigate, and the printing can be done immediately.
The two have partnered to provide useful party activities; planting flowers and coloring pictures.
About PartiesToGrow.com:
PartiesToGrow.com was started by a "work at home" mom with many hats - mother of 2, softball coach, girl scout leader, PTA member - she had an idea she hadn't seen before. PartiesToGrow.com offers an environmentally friendly party favor kit that's packed 12 and comes with pots, fresh seeds, potting material and a carry bag...perfect!