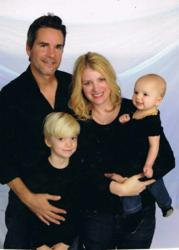 This last year has been the hardest year of our lives. But we have been blown away by the incredible support of our community." - Katie Kaiser Smith
Northridge, CA (PRWEB) May 01, 2013
On Saturday, May 18th from 6-10 p.m., Highland Hall Waldorf School community and friends will join together to "Rock for Katie." This concert will benefit Katie Smith, a parent at the school. The show will be held at Skinny's Lounge in North Hollywood, California, and feature Johnny Cash cover band, Cash Up Front and music by Eric Stromer. Hors d'oeuvres will be provided by Tanino Drago and Food Fetish Catering. All proceeds will be donated to Katie Smith's fund to help pay for her brain cancer treatments via the Talbert Family Foundation. Tickets are $40.
Katie, mother of two young children, was diagnosed in May 2012 with an inoperable grade three brain tumor. The Anaplastic Astrocytoma affects the motor region of her brain, causes loss of motor skills and the onset of unpredictable seizures. These symptoms eliminate her ability to drive or work and require Katie to have 24-hour supervision.
"When we heard the news, we wanted to help Katie in whatever way we could, from shopping to meals, babysitting, driving...," says Andrea Danneker, parent and one of the many organizers of the concert. "Supporting one another is what our community is all about. Katie isn't just a fellow mom or friend, but a courageous inspiration to all of us."
Expenses for Katie's care have caused tremendous financial hardship for the Smith family. To help defray those mounting medical costs, a group of Highland Hall parents came together to produce "Rock for Katie," a fun way to financially support the Smith family.
"It's an honor to perform our music to support this worthy cause," says Corby Gallegos, lead singer for the Johnny Cash cover band Cash Up Front.
In addition to ticket sales and individual donations made at the show or online, Talbert Family Foundation will match the first $5,000 raised in this fund and has provided a $5,000 honorarium as well.
"This last year has been the hardest year of our lives. But we have been blown away by the incredible support of our community," says Katie. "Everyone at the school has been so comforting and kept us going. We are so thankful for all the love and care we are receiving."
The concert will be held from 6-10 p.m. at Skinny's Lounge, located at 4923 Lankershim Boulevard, North Hollywood, CA 91601. Doors open at 6. For information on ticket sales and to make a donation, go to Katie Smith's page at http://talbertfamilyfoundation.org/pages/Katie.html.
The Talbert Family Foundation is dedicated to providing direct financial support to local families suffering from catastrophic illnesses, primarily cancer. 100% of all funds raised go directly to the families.
Highland Hall Waldorf School is located in Northridge, California. Founded in 1955, it is the oldest Waldorf school in the western United States and offers an independent alternative to public and other private schools, providing the Waldorf Curriculum from Early Childhood through High School graduation. Highland Hall, a non-profit school, does not discriminate due to race, religion, gender, national origin, disability, or other basis protected by law.