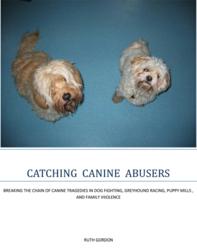 "This small book is useful, succinct, and easily read."

— Emilie Buchwald, publisher, The Gryphon Press, publisher emeritus, Milkweed Editions
MINNEAPOLIS, Minn. (PRWEB) May 02, 2013
Advance Praise for "Catching Canine Abusers"
" 'Catching Canine Abusers' is a book whose time has come as our society begins to focus on crimes against animals. The author's research into animal cruelty, its relationship to family violence, as well as the difficulty in indicting individuals for animal cruelty, and her explanation of contemporary ways of dealing with such crimes, is important for all those who care about animals. This small book is useful, succinct, and easily read."
— Emilie Buchwald, publisher, The Gryphon Press, publisher emeritus, Milkweed Editions
About the Book
Canine advocate and professor Ruth Gordon's new book, "Catching Canine Abusers," is an educational look into the dark and all-too-prevalent world of dog abuse, detailing the cruelty and what needs to be done to prevent it.
In "Catching Canine Abusers" Gordon exposes new research showing that 80% of homes with family violence also have pet abuse. This book sends a powerful message, pushing family and animal agencies to work together to expose abuses and enforce protection laws.
"Catching Canine Abusers" exposes the criminality of dog fights and Greyhound racing, illuminates the inhumane conditions of puppy mills, and details the plethora of difficulties tracking down animal abusers.
About the Author
Ruth Gordon is the author of four additional books on dogs:"It Takes a Dog to Raise a Village" (Willow Creek Press), "Good Dogs: Stories of Benevolence," (Willow Creek Press), "Don't Fence Their Spirit" (Xlibris) and "Follow the Dog; a History of the St. Paul Police Canine Unit 1958-2008" (Pogo Press). Ruth is retired after a long and distinguished career in health care and nursing administration and resides in St. Paul, Minnesota.