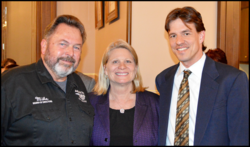 Southfield, Michigan (PRWEB) May 03, 2013
Buckfire & Buckfire, P.C. attorney, Dondi Vesprini, is an experienced attorney in the area of motorcycle accidents; however his advocacy extends beyond the court room as well, meeting frequently with both legislators and lobbyists regarding legislation affecting injured motorcyclists.
Recently, motorcycle attorney, Dondi Vesprini attended an American Bikers Aiming Towards Education (ABATE) event where he spoke on behalf of motorcyclists in Michigan. Pictured to the right is a photo of fellow ABATE Board member Mike Olinger, Secretary of State, Ruth Johnson, and our very own Buckfire & Buckfire, P.C. attorney, Dondi Vesprini, that was taken at this recent ABATE Pizza and Pop event held at the State Capitol.
The event is a lunch put on by ABATE where many legislators and their staff come to eat and offer an opportunity to talk with them about legislative issues affecting motorcyclists. At the event Dondi Vesprini was able to have a good discussion with a number of legislators and Secretary Johnson in various issues including No-Fault reform, making them aware of how changes will affect motorcyclists and what should be done to protect riders.
Presently, if a motorcycle rider or passenger is involved in a bike crash and another motor vehicle is involved, he or she is entitled to Michigan no-fault insurance benefits if injured. The order of priority in which an injured motorcyclist will be covered is as follows:
1. Auto insurer of the owner or registrant of the motor vehicle involved
2. Auto insurer of driver of motor vehicle involved
3. Motorcycle driver's auto insurer
4. Motorcycle owner's auto insurer
5. Michigan Automobile Insurance Placement Facility (MAIPF), formerly known as the Michigan Assigned Claims Facility
About Buckfire & Buckfire, P.C.
Buckfire & Buckfire, P.C. has been handling no-fault insurance claims and motorcycle accident lawsuits on behalf of bikers and their families for over 40 years. The personal injury law firm not only has a team of experience motorcycle attorneys, but their bike injury accident team is also very involved in protecting the rights of injured motorcyclists by frequently meeting with legislators and lobbyists regarding legislation and no-fault reform.
For more information about how the top rated motorcycle attorneys at Buckfire & Buckfire, P.C. can represent you in your biker injury accident case, call our personal injury law firm now toll-free at (800) 606-1717 or visit the law firm website at http://www.BuckfireLaw.com