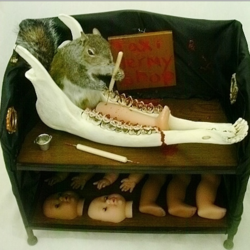 Thornton, CO (PRWEB) May 01, 2013
Oneshotvariety.com, online seller of unique novelties, recently added a squirrel diorama to its online store. The diorama depicts a squirrel performing taxidermy on a human, owner Joseph Caltabiano explains.
The diorama depicts Twisty, a realistic-looking stuffed squirrel injecting an imitation human leg with a taxidermy needle. The flesher is made to look like a human jawbone, adding another element of interest to the piece. Created by an award-winning taxidermist, Twisty and his jawbone flesher rest inside an imitation wood cabinet made to look like his shop. A sign for Twisty's shop is also included to add an extra element of detail to the piece, along with several plastic body parts stored safely beneath where Twisty is working.
"The images show him working on his biggest project yet," Caltabiano writes on the website. "His goal is to create a human trophy that can be displayed on the roof of his shop. He feels that if it is capable of bringing a lot of attention, it is also capable of bringing in more customers."
This whimsical piece, which sells for $650 on Oneshotvariety.com, is just one example of the many unique items available on the site. Caltabiano scours the globe to find the most unique items to sell on the site. This unique item is one of many he plans to feature on Oneshotvariety.com, with an upcoming diorama featuring a rodent funeral. The diorama, according to Caltabiano, features a rat and three mice mourning their dead parent, a rodent resting peacefully in a coffin.
Dioramas were used in the 1800s as a way to look at artwork. The scenes could be changed slightly by changing the illumination behind the picture. Over time, dioramas have evolved to take on a more three-dimensional quality, usually depicting a scene. While some dioramas are full-size, miniature dioramas like the one sold by Oneshotvariety.com have become popular in recent years. But Oneshotvariety.com will feature dioramas the company describes as "twisted" to meet the requests of its loyal customers.
The dioramas are featured as part of Oneshotvariety.com's oddities section, which includes bones, skulls, shrunken heads, odd dolls, and more. Shrunken heads, in particular, are hard-to-find items that are in great demand. Caltabiano emphasizes that purchasing shrunken heads in the U.S. is illegal, with only replicas of shrunken heads now legal to buy and sell. Oneshotvariety.com's shrunken heads are only 3" X 2", making them perfect for hanging on the rearview mirror of a car or displaying on a bookshelf or desk.
For true oddities lovers, Caltabiano invites visitors over to see the articles posted on the Odd Articles part of the Oddities section. Included are weird facts about humans, weird things people do, animal oddities, and weird insects.
Oneshotvariety.com also sells toys, home décor, books, shoes and accessories, and much more. Whether a consumer is interested in being entertained or searching for unique novelties, Oneshotvariety.com is a site worth checking out. To check out Oneshotvariety's "unique items" page, visit http://oneshotvariety.com/unique-oddities-oddities.html.