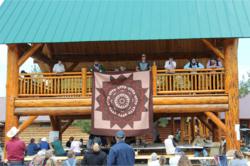 "We'll be there. 
Thank You!"
Shatwanee & RB
Libby, Montana (PRWEB) May 02, 2013
Each third Saturday in May, the Libby Amish Community brings hundreds together in a full, exciting, family-oriented day. Their theme is "sharing community", in a culture of so much social breakdown. The Libby Amish demonstrate a little bit of "slow" in the midst of the mad rush of our times with the handmade and the handcrafted. They show that a traditional auction is a great way to not only get a "deal", but enjoy the community of others, over good, healthy, home cooked food by the Amish ladies. Part of the proceeds go to the non-profit Amish School. Look for:
Log Homes, Cabins, Pavilions
-from Meadowlark Log Homes, offering over 30 years building solid, beautiful, handcrafted log homes, with an A+ Rating with the Better Business Bureau, and one of the few who are members of the Log Homes Council.*
Handcrafts - Quilts - Handmade Furniture
-from the Eagle Valley Libby Amish Community and Communities nationally. See our write up at the popular blog Amish America here.
Amish-style BBQ Meal and Dessert
-from the members of the community and the Farm to Market Store and Bakery
All day fun for friends and family!
Call-in pre-auction bids, vendors and consignments welcome.
Auction happenings will be posted throughout the day to the YouTube Channel: AmishHomes.
50 Meadowlark Lane
Libby, MT 59923
Farm to Market Road - 1/2 mile south of Libby Airport
Meadowlarklog.com - info(at)Meadowlarklog(dot)com (406) 293.8707
 
ABOUT MEADOWLARK LOG HOMES: Meadowlark Log Homes has excelled in helping residential customers and commercial developers design and build their dream, producing the highest quality levels of design and craftsmanship for over 30 years, at competitive industry prices. Our commitment is to be the best in excellent Customer Service, with people and policies that have been developed over generations. Our motto: "Welcome to the family. We invite you to our community for a visit or just call."
ABOUT LIBBY AMISH COMMUNITY: The Libby Amish Community, starting in 1992, is a Amish church that has opened its doors to the Body of Christ who are hungering for a family oriented church and community lifestyle. As a community that walks together and works together daily it offers many opportunities to both help each other and grow in an environment that requires greater transparency. Community and church are inter-related to the point that the opportunity to connect and fellowship can happen quite spontaneously, including serving the larger community by sponsoring the annual Libby Amish Auction every third Saturday in May.
ABOUT FARM TO MARKET STORE AND BAKERY: The Farm to Market Store and Bakery serves the local community in Northwest Montana and Northern Idaho out of their log home south of Libby, Montana down the Farm to Market Road south of town. They specialize in Amish Country Deli meats and cheeses, a diverse bakery, frozen meats with a cozy lunch kitchen for homemade soups and sandwiches. The Store is traditional Amish with quality goods at low prices, including Amish Apple Butter, sugar and sugar-free, made the old fashioned kettle way right here.
ABOUT LIBBY, MONTANA: Libby, Montana is located in northwestern Montana where the Cabinet Wilderness Mountains tower above the Kootenai River. The area includes the Kootenai National Forest with pristine lakes, rivers and mountain trails. Rivers, streams and Lake Koocanusa are filled with native fish. Hiking trails wander through 1400 miles of huckleberry laden hills with breathtaking views of the Cabinet peaks and the long, sparkling Lake Koocanusa, which reaches clear into Canada. See wildlife like deer, elk, moose, bear, wolves, mountain lions or marmots and hear the voice of the wood thrush, the tapping of the Pileated woodpecker and the song of the Meadowlark. Winter is over now and this summer the lakes are warm and invite swimming, boating and fishing. Campgrounds can be found in both developed or primitive areas. Come now and prepare for the Fall hunt.
*Trust only members of the Log Homes Council, a part of the National Association of Home Builders, to make your dream home a reality, because all council members must:
·         Abide by a strict code of ethics
·         Grade their logs and timbers by third party agencies to ensure quality
·         Provide construction manuals to ensure homes are built to meet building codes
·         Sponsor scientific studies that advance log building technologies
·         Provide FREE information to help consumers make smart choices
Buying from a company that belongs to the Log Homes Council gives you peace of mind, protecting your investment.
 
ABOUT THE COUNCIL: The Log Homes Council is a national organization with membership comprised of manufacturers of log homes. These companies have adopted membership rules that protect consumers during the buying and building process.
 
ABOUT NAHB: The National Association of Home Builders is a Washington, DC-based trade association representing more than 140,000 members involved in home building, remodeling, multifamily construction, property management, subcontracting, design, housing finance, building product manufacturing and other aspects of residential and light commercial construction. NAHB is affiliated with 800 state and local home builders associations around the country, as well as internationally. NAHB's builder members will construct about 80 percent of the new housing units projected for 2013.