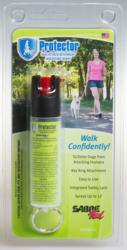 Now there is an effective, humane way to keep pets and their owners safe!
(PRWEB) May 03, 2013
Now there is an effective, humane way to keep pets and their owners safe!
It happens every 75 seconds and it can take less than 10 seconds for tragedy to happen. Over 1,000 (pets, pet owners or both) suffer from dog bites each day.
According to the JAMA, dog attack victims now suffer up to $2 billion dollars annually and dog bites make up a third of all home owners' liability claims. It's extremely unfortunate but true; a nice walk in the park can turn into one hundred stitches, a week of intensive care and thousands of dollars in hospital bills.
Man's best friend is considered by most pet owners to be a member of their family and most will do whatever it takes to protect theirs. Unfortunately, many give little thought to protecting their lovable friend until it is too late. These dangerous attacks leave panicked owners searching for any means possible to separate and deter the attacking dog. 2x4's, sticks, purses, their own hands and sometimes even weapons have been used to stop attacks. Unfortunately, these situations often result in serious injuries to the attacking dog, the pet and the owner.
Now an environmentally friendly, safe and effective option allows pet owners to keep their best friend safe by deterring attacking dogs at a safe distance. Recently approved by the Environmental Protection Agency, Protector Dog Spray provides an all-natural food grade pepper spray formulation which stops the attack safely. With a range of up to 15 feet, Protector® temporarily stings and closes the eyes of the attacking dog. All effects reverse in just a few minutes leaving no injuries to the attacking dog and the necessary time for pets and their owners to escape to safety.
Walk confidently with Protector® dog spray.
Family owned and operated since 1975, Security Equipment Corporation (SEC) is the manufacturer of Protector Dog Attack spray, Frontiersman Bear Attack Deterrent and SABRE and SABRE RED personal & professional safety sprays. A dedication to innovation coupled with a commitment to producing very safe products and formulations has made SEC the industry leader in sprays designed to keep individuals and now their pets safe.