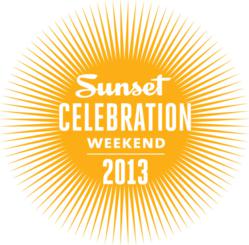 This is an amazing opportunity to see, taste and experience the magic that Sunset packs into its pages all year long. It really is like walking into a Sunset story.
Menlo Park, CA (PRWEB) May 03, 2013
On June 1st & 2nd, tens of thousands of Sunset fans will join the magazine's editors, celebrity chefs and renowned experts in Menlo Park for Sunset Celebration Weekend 2013: Why We Love the West. At what has become one of the region's most anticipated summertime traditions, Sunset, the leading lifestyle brand in the West, will open its beautiful seven-acre Menlo Park campus to celebrate the freshest flavors, home and garden ideas, and travel inspiration that the West has to offer.
Join Sunset editors, celebrity chefs, such as Fabio Viviani and Susan Feniger, and other featured presenters from the worlds of food, wine, travel, garden and home as they share tips, tastings, demonstrations and inspiration that show off "why we love the West." Complete stage schedules can be found at http://www.sunset.com/cw.
"This will be my first Celebration Weekend as editor-in-chief and I am so excited to have the chance to meet our readers face-to-face while celebrating all the reasons we love the West," said Peggy Northrop, who joined Sunset as editor-in-chief on April 22. "This is an amazing opportunity to see, taste and experience the magic that Sunset packs into its pages all year long. It really is like walking into a Sunset story."
Featured exhibits include:
Design Destination: Reimagining the Sunset Home
Every year Sunset creates a destination devoted entirely to design lovers, who make the annual pilgrimage to discover the latest trends in home. This year's special feature Reimagining the Sunset Home draws inspiration from the vintage pages of Sunset, where the West's warm modern design aesthetic was born more than a half century ago. Join in as "5-under-35" up-and-coming designers from around the West create trendsetting spaces inspired by actual Sunset home pictorials from the 1940s through 1980s. Walk through the living, dining, kitchen, master bedroom and play room that will make up the 4,000-square-foot exhibit space to discover inspiring ideas for today's homes. The Reimagining the Sunset Home team of designers includes:

Follow Reimagining the Sunset Home and its designers on Facebook http://www.facebook.com/sunsetmagazine and on Twitter and Pinterest @SunsetMag #SunsetHome.
Celebration Weekend Honda Giveaway Sweepstakes
For the fifth year in a row, Celebration Weekend sponsor Honda will be giving away a new car to one lucky winner! This year's sweepstakes features a 2013 Honda Accord Sedan EX. Enter to win at the event, or enter online starting May 10. Visit http://www.sunset.com/cw for more information or to enter.
Top Chefs Fabio Viviani and Susan Feniger Headline Two Days of Cooking Demos on Two Outdoor Cooking Stages
With 13 culinary stars presenting over 20 seminars on two stages, food lovers are guaranteed to leave Celebration Weekend full of fresh ideas for the kitchen. Both the GE Monogram® Cooking Stage and Safeway Outdoor Kitchen will be lit up with culinary star power and fans of Bravo's Top Chef will find plenty of familiar faces:

Season five fan favorite Fabio Viviani's passion and skill will be front and center on Saturday and Sunday as he whips up Fresh Egg Pasta and Lazy Meatballs.
Top Chef Masters contestant, star of Food Network's "Too Hot Tamales" and restaurateur Susan Feniger will wow the crowd with her infectious energy and recipes for Malaysian Black Pepper Clams and Burmese Gin Thoke Melon Salad.
Other Top Chef talent includes "pop up" restaurant pioneer and restaurateur Ludovic "Ludo" Lefebvre (Top Chef Masters, season two) and Top Chef Just Desserts: Season 1 winner Yigit Pura, who recently opened the high-end pastry shop, Tout Sweet Pâtisserie in San Francisco's Union Square.
Sunset is also happy to present:
o Tanya Holland, chef/owner, Brown Sugar Kitchen and B-Side BBQ
o Jamie Purviance, corporate chef, Weber Grills and author, Weber's New Real Grilling™
o Kevin Kolman, grill master, Weber Grills
o Maria Hines, chef/owner, Tilth, Golden Beetle, Agrodolce
o Jeffrey Anderson, executive chef, Safeway
o Ryan Scott, chef/owner, Ryan Scott 2 Go Catering
o Steve Samson & Zach Pollack, chefs/owners, Sotto Restaurant
o Matt Cohen, founder, Off the Grid
o Sunset editors Margo True and Elaine Johnson will also share favorite recipes from the Sunset kitchen.
Catch favorite culinary stars at the GE Monogram® Cooking Stage then tour the kitchen for a behind the scenes look. Or, grab a complimentary Lea & Perrins Bloody Mary sample and check out the Safeway Outdoor Kitchen, Sunset's dream outdoor entertaining area. Sunset's legendary test kitchen can also be toured during the event.
For more information, including cooking stage schedules, go to: http://www.sunset.com/cw.
Off the Grid: Celebration Weekend
For the fourth year in a row, Sunset is welcoming some of the West's most popular food trucks to park on-site, giving festival-goers the opportunity to experience—and enjoy—one of the biggest culinary trends of the last few years. This year for the first time Sunset has partnered with Off the Grid to create Off the Grid: Celebration Weekend, a cluster of some of the area's best food trucks and San Francisco restaurants. The original organizer and promoter of street food markets, Off the Grid operates 19 weekly markets in the greater Bay Area, and works with nearly 150+ vendors every week. Stay tuned for more information about the specific food trucks and restaurants that will be attending the first-ever Off the Grid: Celebration Weekend.
Wine Seminars and Pouring Lounge
One of the most popular features year after year, Celebration Weekend wine seminars consistently sell out, so be sure to register upon arrival. Join Sara Schneider, Sunset's wine editor, in an exciting new location as she takes participants on a wine-lover's journey through the West's freshest wine regions, including Santa Cruz, Washington, and Lodi. Sara will also highlight medal-winning wines from the Sunset International Wine Competition, which is in its second year. A seminar devoted to Western craft beers will introduce sippers to the West's main styles from artisan breweries and pair each with the right cheese.
Celebration Weekend attendees will also get a chance to sample medal-winning wines from the recently completed 2013 Sunset International Wine Competition in a special pouring lounge presented by Mandalay Bay Resort & Casino.
Cost per seminar: $15.00 per person. Wine Seminars have limited seating and are available on a first-come, first-served basis. Sign-ups will be taken on-site. The wine seminar schedule can be found at http://www.sunset.com/cw.
Garden and Outdoor Living Stage
Sunset garden gurus Kathy Brenzel and Johanna Silver will be joined by some of the leading experts in landscaping, backyard farming, and horticulture at this perennially popular area of Celebration Weekend. From aquaponics to "the new citrus" and designing with succulents, Sunset has assembled two full days of programming dedicated to the garden. Garden lovers can also stroll the Sunset test garden, where the editors show off favorite plants, projects, garden gadgets and their very own chickens.
Home Stage
This year's home stage line up is jam packed with ideas that will spark the designer, decorator and DIYer in everyone. From incorporating vintage finds into home decor and designing an outdoor space perfect for entertaining to how to build a remodeling team and make the most of a small space, find fresh ideas that are as practical as they are inspiring.
Travel Stage
Whether planning an epic road trip or car camping for the weekend, the Celebration Weekend Travel Stage's experts will demonstrate new ways to travel in style and comfort—from camp gear for a posh campsite to discovering the best wine while on the road. Plus, learn secrets to taking great travel photography on smart phones and whipping up the most satisfying campsite recipes.
"2012 was a record breaking year for Celebration Weekend with 23,000 attendees and 17 national sponsors," said Barb Newton, president of Sunset publishing. "With 18 sponsors joining us in 2013, this year's celebration is shaping up to be one of the best to date. We are so pleased to welcome new sponsors and thank returning sponsors for their ongoing support."
Sunset would like to thank all of the sponsors of Celebration Weekend 2013: Belgard Hardscapes, Benjamin Moore Paints, Blue Bunny, California Avocado Commission, GE Monogram®, The Hawaiian Islands, Heinz, Honda, Kettle Brand, Mandalay Bay Resort & Casino, Mitsubishi Electric Cooling & Heating, Outrigger Hotels and Resorts, Safeway, Sunbrella, Tillamook, Torani, Transitions, Trex and Weber. Celebration Weekend's community partner is the Children's Health Council.
Celebration Weekend 2013 Event Information:
A complete schedule of presenters and events, event information, and online tickets can be found at http://www.sunset.com/cw.
What: Sunset Magazine Celebration Weekend: Why We Love the West
Date: Saturday and Sunday, June 1st and 2nd
Time: 10am to 5pm
Prices: $18 General Admission, $16 Seniors (60+, no other discounts allowed)
Kids: 12 and under, free
Discount: See 2013 Event Information at http://www.sunset.com/cw to find out how to save $1 by bicycling to the event
Tickets: Tickets can be purchased at the door, or in advance at http://sunsetcw2013.eventbrite.com (discounts cannot be applied to advance tickets)
Location: Sunset Headquarters, 80 Willow Road Menlo Park, CA 94025
More info, parking, directions, and stage schedules: http://www.sunset.com/cw
Questions: Call 800-786-7375, or send an email to celebration(at)sunset(dot)com
Stay up-to-date on Celebration Weekend 2013 by liking Sunset on Facebook (http://www.facebook.com/sunsetmagazine), and following @SunsetMag on Twitter, Instagram and Pinterest #SunsetCW.
**Sunset editors available for interview.
Recipes available by request.
About Sunset
Sunset (http://www.sunset.com) is the leading lifestyle brand in the West. Through magazines and books, events and experiences, and digital and social media, Sunset covers the West's best flavors, destinations, design trends, and innovations. Sunset engages and inspires an audience of over five million educated, active and affluent consumers every month through its five regional print editions—Pacific Northwest, Northern California, Southern California, Southwest and Mountain—as well as via all tablet devices and its website. In addition to its print and digital publication, Sunset showcases the region's unique lifestyle and noteworthy destinations through its flagship events, established home programs, licensing partnerships, books and International Wine Competition. Sunset is part of the Time Inc. Lifestyle Group.
###