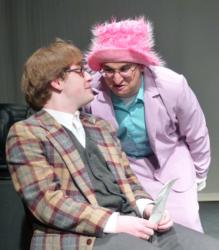 An evening of laughs and quality theatre!
Bethlehem, CT (PRWEB) May 03, 2013
The Woodhall Players will present "An Evening of the Absurd" on May 17th and 18th at 7:30 in the Abigail J. Woodward Performing Arts Center located on the Woodhall School campus at 58 Harrison Lane, Bethlehem, CT.
The performance will include Eugene Ionesco's classic "The Bald Soprano" and several short plays by contemporary playwright David Ives. Challenging the audience as only absurdist theatre can, the evening provokes riotous laughter and thought-provoking self-examination. With a startling combination of comic-tragedy and tragic-comedy, a performance such as this will leave audiences exhilarated with much to ponder after the fact.
With a long history of quality theatrical productions, the Woodhall Players have won numerous Halo Awards and delighted audiences with the high quality of their work. These performances are open to the public at no charge, but the intimacy of the Abigail J. Woodhall Theatre suggests early arrival to ensure seating. There is ample free parking with handicapped-accessible entrances.
For more information contact Sallie Norelli, Communications Coordinator, The Woodhall School, snorelli(at)woodhallschool(dot)org or 203-266-7788 x 18.