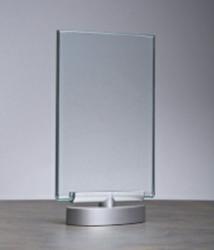 Double-sided acrylic displays have always been a specialty of ours. We feel the swivel feature will actually encourage customers to take it for a spin, encouraging more exposure for advertised specials
Norco, Ca. (PRWEB) May 03, 2013
Always innovating and developing new acrylic display stands to meet growing customer needs, Plastic Products Manufacturing (PPM) today announced the unveiling of the new Swivel Base Acrylic Display Stands that will surely turn heads in more ways than one!
Available now with three different sizes of glass green acrylic picture frames, each frame sits atop an attractive satin grey heavy metal base that remains solidly stationary. The glass green display frames rotate manually on the base's swivel, giving viewers an easy look at both sides. Printed copy can be loaded from the top, right, or left sides of the frame display, making literature easily viewable from either side with a simple spin.
According to Plastic Products Mfg President William Saunders, "We're excited about this unique approach to displaying products, specials, and any form of merchandising literature. There's really nothing like it, combining the stability of the metal base with stand-alone green glass frames. And the swivel feature? That's what really sets it apart from any other display stand on the market."
The Glass Green Double-sided Counter top Sign Holders that rotate so perfectly on their swivel bases come in three different sizes to accommodate a wide range of printed material. 4" x 6", 5" x 7", and 8-1/2" x 11" inserts will surely draw eyes from both sides with one spin. "Double-sided acrylic display stands have always been a specialty of ours," said Saunders. "We feel the swivel feature will actually encourage customers to take it for a spin, encouraging more exposure for advertised specials - and with it, increased sales."
Specializing in manufacturing and distributing Acrylic Display Products, Signage, and Point-of-Purchase displays for more than three decades, Plastic Products Manufacturing has long been an industry leader. Plastic Products Mfg has a strong reputation for top quality standards, outstanding delivery, and an exclusive "Customer Bill of Rights." The company's sign holders, literature displays, chart pockets, display holders, and other industry leading displays are immensely popular across a broad cross-section of industries, including hospitality, medical, automotive, and food service operations.
Among its top accounts, PPM serves the needs of Glaxo Smith Kline, H & R Block, Proctor and Gamble, Starbucks, WalMart, Walgreens, Hertz, T-Mobile, Target, and Honda just to name a few. For more information about Plastic Products Mfg and insight into these upcoming new developments, please visit http://www.plasticproductsmfg.com.