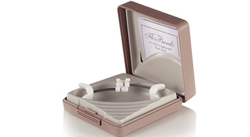 Any mom would be thrilled to receive the Facial-Flex, and it's the gift that keeps on giving.
Blue Bell, PA (PRWEB) May 01, 2013
Facial Concepts, Inc., innovator of the Facial-Flex Ultra, leading facial exercise and toning system, is celebrating the annual appreciation day by gifting one Mom a free Facial-Flex Ultra System.
Participants can post on the Facial-Flex Facebook page or send a tweet to Facial-Flex explaining why their mother deserves this effective anti-aging facial exercise device. Participants who meet the appropriate criteria between now and May 6th will be automatically entered in the raffle drawing which will take place after the deadline.
"We are really excited to be offering this promotion," says Jill Abrams Lapensohn, Marketing Consultant. "Any mom would be thrilled to receive the Facial-Flex, and it's the gift that keeps on giving."
Made of surgical stainless steel with comfortable plastic tips, it uses resistive exercises to make the face appear noticeably tighter and smoother with significant results within 60 days. Facial-Flex Ultra is clinically proven to help restore lost muscle tone, and strengthen the face, chin, and neck area, lifting the face without surgery. It also promotes circulation for a healthy-looking glow, making it the perfect gift for Moms everywhere.
The Facial-Flex Ultra System includes:

Facial-Flex Ultra device
6 month supply of resistance bands
Discrete carrying case
Instructional DVD
Advanced Renewal Complex
Progress Chart
Clinical Background
1-year product warranty
Individuals can visit http://www.facebook.com/facialflexconcepts to find out the official rules and enter or mention Facial-Flex on Twitter (@FacialFlex). For a limited time, customers can also receive a complimentary Facial-Flex Advanced Renewal Complex Cream with their order of the Facial-Flex Ultra through May 12th.
About the Facial Concepts, Inc.:
Facial Concepts, Inc. (FCI) was formed in 1989 to develop a patented facial rehabilitation device that increases oral-motor muscle strength called the Facial-Flex®. Facial-Flex® is a FDA registered medical device for exercising muscles of the face, chin and neck. This product evolved from a device originally designed for rehabilitation of facial burn patients then further developed for the use of esthetic benefits and facial muscle toning. Facial Concepts, Inc. is proud to offer this safe and effective alternative to plastic surgery.