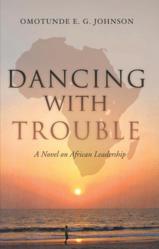 RICHMOND,Va. (PRWEB) May 03, 2013
Nigasilia is a land of misery. Illiteracy and unemployment are high. The wealthy protect themselves or simply leave for the West, while the majority of the population is trapped in abject poverty. "Dancing with Trouble," an entrancing new novel available at all major retailers May 2013, is the heartbeat of Africa and the beautiful souls of its people.
"Dancing with Trouble" introduces readers to John Bijunga, an economics professor and the son of the president of Nigasilia. John had created a future for himself in the States, far from the squalor and frustrations of the Nigasilia he was born to help lead. Meanwhile, the country had been led by inept and corrupt people.
When John must travel to Nigasilia for his mother's funeral, he is forced to ponder the history and the governance system that perpetuates the backwardness in his birth country. Persuaded by his father to extend his stay, he finds some consolation in Jamina, a local chief's daughter, who reveals the beauty hidden beyond the capital and the possibility of love. As he grows ever-frustrated with the governance system, John's father confronts him with a major decision: to return to the comforts of America, or remain in Misery Land and become an integral part of the country's top leadership. Can John change Nigasilia and lead a rapid economic transformation?
Inspired by the author's travels across Africa, his heartland, "Dancing with Trouble" strikingly encapsulates the forces that hold people back, and those that inspire and propel them to move forward.
About the Author
Omotunde E. G. Johnson was born in Sierra Leone and currently resides in McLean, VA. He holds three degrees in economics from UCLA. He has taught at the University of Sierra Leone, the University of Michigan and George Mason University, and has been a Senior Associate Member, St. Antony's College, Oxford University. He was a staff member of the International Monetary Fund for almost 27 years. Omotunde Johnson has worked on the economic problems of many countries around the world, particularly in Africa, Asia, and Eastern Europe. He has published widely in academic journals and books, particularly in the areas of the economics of institutions, monetary economics, financial systems and banking, and economic governance in Sub-Saharan Africa.