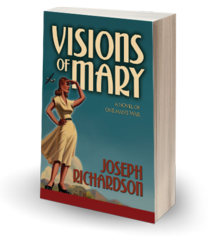 Louisville, KY (PRWEB) May 03, 2013
World War II irrevocably changed the world in all ways; technology, warfare, and society would be forever altered. "Visions of Mary," a brave new work of historical fiction that sets out to honor society's greatest generation, expounds upon a more subtle force of change brought on by the war: a stirring in the minds and hearts of citizens defending their freedom and country. Visions of Mary was inspired by author Joseph Richardson's true patient encounter during his work as an ER Physician.
War and the changes it creates comes in all permutations. "Visions of Mary" opens to a 90-year-old former soldier found wandering, dazed and lost, through a tremendous blizzard, the first stages of Alzheimer's peeking through his otherwise strong semblance. With no other form of identification available, all he knew was his stated name: Captain John Murphy 47-2630. As one doctor works to piece together the Captain's identity, the reader is irresistibly drawn into the raw, emotional recollections of his most perilous years as a soldier and the driving force behind his courage: his young wife, Mary.
At the age of 19, a young college student and his girlfriend were married six weeks after they first met, five weeks after Pearl Harbor, and two days before he shipped out. After only a brief life with his lovely new wife, the newly enlisted soldier was thrust into the throes of danger, high-flying stakes, captivity, and torture.
War can change a man, just as war can change his wife and family in his absence. Will the captain's idealistic and glorified "Visions of Mary" be enough to draw him out of the war unscathed, and even honored? And will Mary be able to live up to pedestal she was placed on by her husband at his time of need?
About the Author
Joseph Richardson is an award winning ER Physician, Pilot, Humanitarian, and Author who resides in the Southern United States. "Visions of Mary" is his first novel.