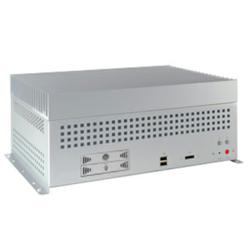 Chino, CA (PRWEB) May 02, 2013
Acnodes Corp. has released, FES5312 and FES5313, a new series of fanless embedded system with mobile QM67 Express chipset, up to 16GB DDR3 RAM, AMT 7.0 and 4- or 2-core i7/i5/i3 processor. With rugged aluminum housing and fanless design, FES531X series operates noiseless and reliable in industrial work environments at temperature from -22°F to +131°F (-30°C to 55°C) with a Core i7 CPU and from -22°F to +140°F (-30°C to 60°C) with a Core i5/i3 CPU. FES531X series has full feature I/Os including two RS-232/422/485 ports, three RS-232 ports, dual GbE LAN ports and six USB ports. Storage options include an internal 2.5 inch SATA drive bay, an external 2.5 inch SATA drive bay (two external 2.5 inch SATA drive bay for FES5313), an externally accessible CF slot, and an eSATA port.
Allowing users to experience high-quality 3D/video/graphics, FES531X series accommodates PCIe x16 slot, which is ideal for image processing task and complex visualization. FES531X series also has a built-in Watchdog Timer to reset the system after a crash or system error, which reduces the need for maintenance. Additionally, FES531X series supports various embedded operating systems including Windows XP/ 7 / 8 Embedded or Professional and Linux. To meet industry need, the system accepts wide range power input from 90V ~ 264V AC and supports RTC alarm power on function. For flexible installation, FES531X series can be wall-mounted or desk-mounted.
Additional information on FES531X series, please visit our FES5312 product page and FES5313 product page.
For full series of fanless embedded computer products, please visit our fanless embedded computer product page.
Our product line configurations are illustrated on our web site at Acnodes.com. However, most of the commercial and industrial computers are custom built to customer's exact requirements. Contact us via e-mail: info(at)acnodes(dot)com or telephone (1-909-597-7588) for more information.
About Acnodes
Acnodes manufactures, designs, and markets industrial computers and display solutions for diverse industries ranging from automation to military. We have an array of technological innovations in the area of rack mount servers, embedded computers, Panel PC's and rugged monitors that create simpler and more valuable products to the customers. We work closely with our clients to customize computer products to meet their required projects and challenges. Acnodes strives to explore new technologies to better improve life and work.
Company Information:
Name: Acnodes Corporation
Address: 14628 Central Ave.
City: Chino
State: CA
Zip: 91710
Country: US
Phone: 909.597.7588
Fax: 909.597.1939
http://www.acnodes.com