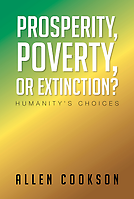 This book relates fundamental physical and ecological principles to economics so that the detachment of current economic practices from physical reality becomes obvious.
Christchurch, NZ (PRWEB) May 03, 2013
Inspired by his son's uncertainty about the state of the world, author Allen Cookson offers understanding into why we will face economic and ecological crisis and how to avoid these problems.
In his new book "Prosperity, Poverty or Extinction?" Cookson uses his knowledge and experience to integrate science and economics in order to analyze the human ecological dilemma.
This book resulted from indignation at the obsession of economists, business people and politicians with unsustainable economic growth. Global consumption exceeds the carrying capacity of the Earth. The author shows how monetary and trade systems must be reformed, and population reduced to avert the decay of civilization and possibly the extinction of our species. This is not a book advocating return to a simple, primitive lifestyle lacking the advantages of advanced technology and eschewing continued scientific inquiry and technological development. Rather it is about adapting humanity to live prosperous lifestyles without destroying its habitat.
"Prosperity, Poverty or Extinction?" is for those who wish to understand the prospects facing all humanity in coming decades, up to the end of this century.