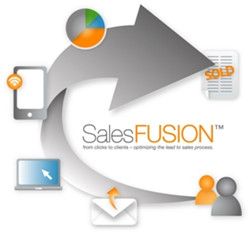 Atlanta, GA (PRWEB) May 01, 2013
SalesFUSION™ is the maker of SalesFUSION 360, an integrated sales and marketing demand generation platform. SalesFUSION announced it will be sponsoring the Sirius Decisions Summit 2013 in San Diego on May 8th-10th, 2013. SaleFUSION is using the SiriusDecisions Summit, a show that is historically focused on marketing and sales alignment and sales enablement, as a launch point for its newly released 8.0 Marketing Platform.
SiriusDecisions Summit 2013 is a unique three-day conference where SiriusDecisions analysts and top sales and marketing leaders from Fortune 500 companies and major SMBs share how b-to-b organizations are solving critical issues that hinder predictable growth. Each year, the theme focuses on aspects of how sales and marketing can, and should, intersect. The conference is an invitation-only event that promises to be both informative and fun. It offers delegates the opportunity to receive SiriusDecisions' latest research insights, share best practices and ideas with guest speakers, network with peers, discuss industry trends and gain the knowledge required to maximize the output of the sales and marketing functions.
A vendor showcase is also an integral component of the conference and SalesFUSION will have its inaugural presence at this highly regarded event. Said Kevin Miller, CMO, SalesFUSION: "We've long respected the direction of Sirius Decisions and felt that, with the release of our new 8.0 platform, which is so very much focused on marketing & sales alignment, that this was the right time to establish a presence at this venue. Our 8.0 releases marks a major milestone for SalesFUSION. It coincides with our recent Series A round of funding and comes on the heels of our highest revenue performing quarter since we started as a company. Companies from the Fortune 1000 world through our traditional large SMB base are taking notice at how very different we are from the standard MA vendors in how well we connect and embed marketing into CRM/Sales".
SalesFUSION will be showcasing a host of new features in its platform at the show including a new nurture designer, event management platform, sales enablement tools and advanced lead to revenue analytics.
About SalesFUSION
SalesFUSION 360 provides software that accelerates revenue by connecting sales and marketing with prospects at the moment they are ready to buy. This is made possible through the SalesFusion 360™ suite, which complements Sales Teams and their CRM applications by adding an on-demand enterprise lead management service. SalesFUSION 360 increases lead quantity, lead quality, and revenue conversion rates by integrating and automating the lead management process.