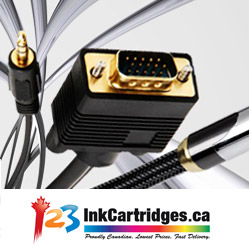 Montreal, Quebec (PRWEB) May 03, 2013
Online Retailer 123inkcartridges.ca is always striving to meet the needs of their customers by constantly expanding their inventory of products. The company recently announced the availability of Cat 7 network cables from Rosewill at their online store. Cat-7 network cables that can be used for 1000Base-TX, 100Base-T, and 10Base-T networking can go up to 10Gbase-T(10-Gigabit Ethernet).
Unless all of the components are validated at Gigabit speeds, the network will not perform at Gigabit speeds and that is why a gigabit switch, router or hub and also gigabit network cards are also essential. The majority of Cat7 cables are straight through cables that are used to
connect computers to hubs and switches. Thought these are fairly new, they are now becoming more popular and customers can find virtually any kind of Cat7 cable that is perfectly suited to their requirements at 123inkcartridges.ca.
The company is constantly expanding their inventory of high quality and affordable products and the Cat7 cables that they added to their massive product inventory feature even more strict specifications for crosstalk and system noise then CAT 6. This is achieved through shielding on the individual wire pairs and the cable as a whole.
To ensure that they purchase only the highest quality label printer tapes from renowned and reliable suppliers, the number one source for printer ink cartridges and laser printer toner cartridges also makes their own inventory purchases. The entire product line of these Rosewill Cat 7 cables can be viewed online at: http://www.123inkcartridges.ca. Customer service personnel are online 24/7 and available to help customers who may need assistance or have a question about a product. Apart from the massive selection of these types of products that can fulfill the needs of the customers, 123inkcartridges.ca has assembled a friendly and knowledgeable Customer Service Staff that successfully meet the needs of a growing customer base.
Renowned for their fast delivery of orders and a 30 day no quibble money back guarantee, 123inkcartridges.ca is doing their best so that customers have instant access to the best and the latest products, including CAT7/ Category 7cables that are recognized for all the country organizations members of ISO. Along with the facilities to handle 100% of their product fulfillment, the company also offers HDMI cables, office supplies, printer, cellphone and gadget accessories, and much more that are available at competitive prices.
About 123inkcartridges.ca
One of the fastest growing online suppliers of printer and computer related products, the full line of products of Canada based 123inkcartridges can be viewed online at http://www.123inkcartridges.ca. This online distributer has spent considerable time and effort in the research and testing some of the top products from international manufacturers. The company has more than 10,000 products in their catalogue and they make it easier for customers to find them using various product sorting features.