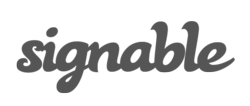 It is amazing that we have been selected on the shortlist for this hugely important award. It is a real honour.
Bristol (PRWEB UK) 2 May 2013
Signable, a provider of electronic signature software, today announces it has made the shortlist of entries for the prestigious Nominet Internet Awards 2013 in the Innovative Internet Business category.
From an all-time high number of entries, Signable has made it through to a shortlist of 29 organisations and initiatives has been selected.
Signable is an online service that helps businesses get their contracts signed quickly by using electronic signatures.
The Nominet Internet Awards celebrate the achievements and innovation of UK internet initiatives. The awards aim to showcase projects from UK businesses, charities, individuals and public and private sector organisations which help to make the internet a more secure, open, accessible and diverse experience for all.
A panel of judges are due to select the winners, which will be announced at an awards ceremony on Thursday 4th July at The British Library, hosted by technology journalist Kate Russell. Olly Culverhouse, Signable, says: "It is amazing that we have been selected on the shortlist for this hugely important award. It is a real honour.
Lesley Cowley, CEO of Nominet, says: "Once again the Nominet Internet Awards nominees represent the diversity of online innovation found in the UK. From online safety and awareness through to innovative new public services, the last twelve months has seen a number of strides across a wide range of sectors focussed on making the internet an even greater source of economic and social good for all. In an environment where the internet doesn't always get good press, the awards have uncovered some shining examples of the positive impact the internet is having around the UK."
The full shortlist is available at the Nominet Internet Awards website.
Last year's winners included; The Raspberry Pi Foundation, a charity aiming to promote the study of computer science and electronics in schools, and Hao2.eu Ltd, which provides employment and training for autistic people via the medium of 3D virtual world technology.