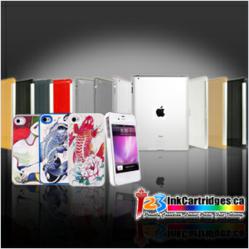 Montreal, Quebec (PRWEB) May 06, 2013
Online store 123inkcartridges.ca just announced that they have added a full line of Case-Mate
covers to their expanding inventory of products. Included in the line of products are cases for different devices such as the iPhone 4, 4S, 5, Samsung Galaxy S3, and BlackBerry 9350/9360/9370 (Curve).
There are a number of different options to choose from such as the ® 'MIKE' Droid Creature Case-mate cover for Samsung Galaxy S3 to Case-Mate Bubbles Case for BlackBerry 9350/9360/ 9370 (Curve). The entire line of these new limited edition covers from Case-Mate can be viewed
at http://www.123inkcartridges.ca/catalog/search?q=Case-mate. Some of the limited edition Case-Mate covers that are now available at 123inkcartridges.ca include Swirl Lollipop for iPhone 4/4S and Creatures Series for iPhone 5, White Snowman. The other cases in the series include Elephant (Ellie), Flamingo (Pinky), Tiger (Tigris), Penguin (Waddler), Xing Panda, Brown Bear, and Peacock. For the Samsung Galaxy S3, there are Glam Cases in silver and pink as well. Other options available are the Xing Case for iPhone 4/4S.
123inkcartridges.ca has assembled a friendly and knowledgeable Customer Service Staff who successfully meet the needs of a growing customer base. Apart from products like these, interested and potential customers can also take a look at the other products as well. Apart from making their own inventory purchases, the company offers a number of products at affordable prices along with quick delivery and a 30-day no quibble money back guarantee.
About 123inkcartridges.ca
123inkcartridges is an online supplier of the highest quality networking accessories, HDMI cables, office supplies, printers, cellphone and gadget accessories, among other products. The full line of products that this Canada-based company offers can be viewed online at http://www.123inkcartridges.ca/. They began their services offering high quality ink and toner cartridges for printers at a reasonable price after which they began to expand their inventory to include a massive selection of high quality consumer products including home and kitchen
appliances as well as cellphone and gadget accessories.