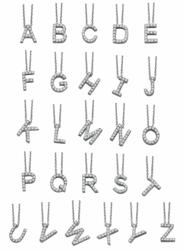 New York, NY (PRWEB) May 02, 2013
KC Designs, a premier designer of diamond jewelry, announced a Facebook contest today that will award one lucky winner a classic diamond and 14K white gold necklace valued at $700. The contest will start Friday, May 3 and end Saturday, June 1, 2013.
Entering the contest is simple.

Those that wish to enter should take a picture of themselves wearing their favorite piece of jewelry.
Visit the KC Designs Facebook page located at http://www.facebook.com/KCDesignsNYC.
Like the page.
Submit the photo.
Get friends and family to "like" your picture
The winner will be chosen by the number of "likes" they receive on their photo. The winner will then choose one diamond and 14K white gold initial necklace from KC Designs Block Initial Necklace Collection as their prize!
For more information regarding the contest and contest rules, please visit the KC Designs Facebook page at: http://www.facebook.com/KCDesignsNYC.
About KC Designs
KC Designs has been creating and selling diamond jewelry for more than 30 years. The company was founded by Lenny Krol, who combines his creative vision and passion for designing in his creations of fashion forward and trendy diamond jewelry designs. His business partner, Joe Carullo, brings his people skills to the company, enabling him to build strong relationships with retail jewelers. His ability to connect fashion to retailers brings life to the collections of KC Designs.
Together, Lenny Krol and Joe Carullo provide beautiful jewelry and impeccable customer service through their staff. Their diamond pieces have been acclaimed by the fashion industry and celebrities alike and have been used in the television and film industry. However, they love connecting with and providing their diamond designs to regular consumers all over the world.