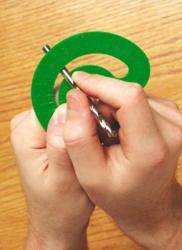 PITTSBURGH, PA (PRWEB) May 09, 2013
InventHelp® introduces Easy Gauge™, a compact tool that accurately determines the diameter of a drill bit prior to its use. Easy Gauge™ makes drill bit selection quick and easy for all of your building and construction needs this season.
The Easy Gauge™ is flat and small enough to fit inside a pocket. It is semi-circular in shape and has a cut out arch, which accurately sizes drill bits in either millimeters or inches. Insert the end of a drill bit until both sides of the gauge meet with drill bit. At this meeting point, the scale can be read.
The Easy Gauge™ can also measure a fastener to determine the size of a drill bit required for a job by inserting the screw through the tool. Suggested retail price: Set of 5 for $4.95.
InventHelp is seeking marketers and distributors in the building/construction, hardware/tools, housewares industries and direct response industries. Easy Gauge™ is available on InventHelp Store, a website of innovative new products by InventHelp's licensing and product marketing partner Intromark Incorporated. For more information, or for ordering, contact us at 217 Ninth Street, Pittsburgh, PA 15222; call (800) 851-6030 or (412)288-1368; fax (412) 338-0497.
Manufacturers interested in reviewing additional inventions and new product ideas can contact Intromark by filling out an online request to review new product ideas here.
# # #