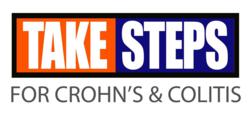 (PRWEB) May 01, 2013
Who: Take Steps for Crohn's & Colitis is the nation's largest annual event dedicated to finding cures for digestive diseases. Through this family-friendly program which includes a festival and walk, thousands of walkers across the country raise crucial research dollars to help the one in 200 Americans fighting Crohn's disease and ulcerative colitis. Take Steps for Crohn's & Colitis brings together the Crohn's disease and ulcerative colitis community in a fun and energetic atmosphere where participants are encouraged to make noise and be heard—raising awareness of these little-known diseases in their community and across the nation.
What: Delaware Take Steps Walk for Crohn's & Colitis
When: This Saturday, May 4, 2013 from 3:30–6:30 p.m.
Where: Dravo Plaza, Wilmington Riverfront – 815 Justison Street, Wilmington
Why: Known collectively as inflammatory bowel diseases (IBD), Crohn's disease and ulcerative colitis affects 1.4 million Americans. They are painful, medically incurable diseases that attack the digestive system. Crohn's disease may attack anywhere along the digestive track, while ulcerative colitis inflames only the large intestine (colon). Symptoms may include abdominal pain, persistent diarrhea, rectal bleeding, fever, weight loss and fatigue. Many patients require numerous hospitalizations and surgery. These are common disorders with bad consequences if not detected and treated early, yet long delays in diagnosis and effective treatment are common because people, including primary care physicians, are not familiar with the symptoms. The average delay in diagnosis is one to three years and the average patient is misdiagnosed twice. Most people develop the diseases between 15 and 35, however the diseases are becoming increasingly more common in children.
For more information on the Delaware Take Steps Walk or to register, please visit http://www.cctakesteps.org/delaware. Major community partners of the 2013 Delaware Walk include Nemours Alfred I. duPont Children's Hospital, MAGIC: Mid-Atlantic GI Consultants, Warner Chilcott, Delaware GI Associates, and Metlife Foundation.