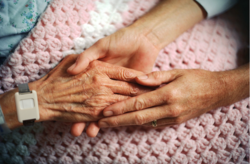 Even if a medical incident occurs in the middle of the night, we are ready to respond.
Philadelphia, Pennsylvania (PRWEB) May 03, 2013
The ASAPro Plus is the latest medical alert system product offered by ASA to provide safety and personal security to individuals who are unable to use a phone during an emergency. To this effect, the ASAPro Plus proves especially useful for individuals that live by themselves and wish to continue living independently in their home. New features that the ASAPro Plus offers include a range of 1000 feet in and around the home. In addition, the ASAPro Plus consists of an emergency alert pendant that is 100% waterproof and thus may be worn while bathing in the shower and bathtub.
ASA recommends that the individual wears the emergency alert pendant continuously in case of an accident. When the user presses the emergency alert pendant, ASA's Life Safety Monitoring station provides 24/7 care through our experienced Life Safety Operators, who are specifically trained for two way voice dispatching in response to an adverse medical event. For those who prefer not to use landlines, the ASA Plus Pro can come equipped with a cellular connection at little additional cost. To provide users with more flexibility and better functionality, necklace, wristband and clip medical alert pendants are also available.
Zach Nigrelli, Director of Operations for the Pennsylvania-based medical technology company, is enthusiastic about the launch of the ASAPro Plus in the Philadelphia region. "The original ASA Pro is one of our highest quality and best-selling products," he said. "But now we're going above and beyond it and offering one of the best pieces of equipment money can buy in the area of medical alert systems." The launch of this new product is the latest in a series of recent ventures undertaken by ASA, where Mr. Nigrelli is part of a highly trained team of employees have been working to make Automated Security Alert a regional force in the area of elder care.
The company, which is owned and operated by Zach's father, Mr. Vincent Nigrelli, has been serving seniors in Pennsylvania, Washington D.C., Maryland, Virginia and West Virginia for over twenty-five years, in addition to shipping products directly to customers nation-wide. When asked how their company has been able to thrive over this prolonged period, Zach offered a three-part answer: "Foremost, we are on the cutting edge of senior-useful medical technology. Secondly, we offer our products at the most competitive prices you can find. Finally, we have a great group of customer service representatives and employees working around-the-clock to ensure that our users are cared for properly in their moment of need."
The products Automated Security Alert offers are well-established within the senior community. No stranger to the area of technology-based senior care products, ASA has been providing seniors with both wearable and non-wearable medical alert and fall detection devices, medication dispensers and organizers, and other products that can aid independent-living seniors in their quest to retain personal autonomy. At present, ASA has served or is currently serving thousands of seniors across the nation, utilizing its regional base and tight-knit team of highly-trained employees offering affordable prices and the highest quality of customer service.
Mr. Nigrelli explains the appeal of these new products as being part of a sea-change in senior care. "Now, more than ever, the financial incentives of continuing to live at home are paramount to seniors." Mr. Nigrelli says. Rather than move to a nursing home (which, as a February Pittsburgh Tribune-Review article noted, costs on average between seven and eight thousand dollars per month), seniors can now utilize the ASAPro Plus and similar products to enable them to continue living independently at home.
Furthermore, the monitoring services provided by ASA are available around-the-clock, 24 hours a day, 7 days a week. "We don't take a moment off," Mr. Nigrelli says. "Even if a medical incident occurs in the middle of the night, we are ready to respond." Indeed, if you or a loved one are interested in such a detection device, the folks at Automated Security Alert are ready to help. Along with product installation of the device, ASA offers in-home training for users of their products to ensure that customers will be able to effectively deploy alerts with needed. In addition, ASA provides potential customers with a variety of contract options, offering its products and services in both one-month, trial form as well as long-term plans.
About Automated Security Alert: ASA has been a local provider of personal emergency response and medication dispensers since 1988. With offices in Philadelphia, Cleveland and their main headquarters in Pittsburgh, ASA's trained operators provide in-home safety throughout the region with medical alert, fall detection and medication management systems. Through use of the array of available products, patients can increase their time at home by an average of six years.