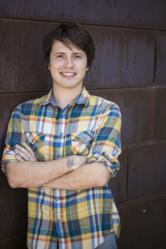 My experience at GCC has given me the discipline and leadership skills that I needed to hone and fine-tune my innate abilities. --Beau Grothendick
Glendale, AZ (PRWEB) May 03, 2013
Glendale Community College biotechnology student Beau Grothendick has been named to the 2013 All-USA Community College Academic Team.
Only 20 students were selected from more than 1,800 nominations.
Grothendick received a $2,500 scholarship, presented at the Awards of Excellence brunch held during the American Association of Community Colleges (AACC) convention in San Francisco.
The All-USA Community College Academic Team is presented by USA TODAY and Phi Theta Kappa (PTK) and sponsored by Follett Higher Education Group. Team members were featured in a full-page section in the USA TODAY newspaper on Tuesday, April 23.
Grothendick was the student speaker representative of the 2013 All-USA Academic Team. In addition to the All-USA scholarship, as the top scorer from Arizona, Grothendick garnered a $2,000 New Century scholarship from The Coca-Cola Foundation and Coca-Cola Scholars Foundation.
He was one of 50 community college students from the United States, Canada and the Federated States of Micronesia to receive the New Century Scholarship. The program is sponsored by The Coca-Cola Foundation, Coca-Cola Scholars Foundation, PTK and the AACC.
"Students selected for these scholarships are truly outstanding," said Dr. Irene Kovala, GCC president. "The Coca-Cola Scholars Foundation and The Coca-Cola Foundation provides well-deserved recognition of their dedication to academics and community leadership."
Grothendick first set foot on a college campus when he arrived at GCC in his mid-20s. His life after high school kept him busy, working as a full-time chef and volunteering at the Humane Society.
Making a new life for himself would present daunting new challenges. But he knew what he wanted to accomplish. "I wanted to be the person I always dreamed about being; sometimes that takes work," he said.
The two scholarships are a welcome send-off present for Beau as he earns an Associate of Applied Science (AAS) degree from GCC and prepares to spend the summer at ASU West with Dr. Todd Sandrin in the New College's Division of Interdisciplinary Arts and Sciences at ASU West. He will start classes at ASU West in the fall.
Grothendick intends to pursue a Bachelor of Applied Science (BAS) in cell and molecular biology and a Bachelor of Science (BS) in life sciences. "It's a stunning field, and I found cooking translates really well to science, because when you're working with chemistry, it's kind of like a recipe," he said. "You just have to be a little more careful," he added.
He looks forward to earning a master's degree in molecular virology, and working in research aimed at finding vaccinations and cures for viruses. Somewhere along the path, he may opt to teach at the university or community college level.
"My experience at GCC has given me the discipline and leadership skills that I needed to hone and fine-tune my innate abilities," he said.
With family far away, he credits fellow members and the faculty advisors of PTK, the first club he joined at GCC, for providing encouragement and helping him stay focused. "I learned how to have confidence in myself and not be afraid of stepping up to the game," he said.
Grothendick says winning these scholarships was a pleasant surprise – hoped for, but definitely not expected. "I feel very grateful and humble; I have never won anything big in my life, so it's a big thing," he said.
Still reeling from winning the scholarships, Grothendick encourages others to get in "feet first" and try. "You have to try; nobody's going to blame you if you fail," he said. "Help is here on campus if you look for it. Use the resources that the campus has."
The Coca-Cola New Century Scholars were recognized during the annual PTK honor society presidents breakfast at the AACC convention in San Francisco and at a special reception for PTK scholars at the group's annual convention in San Jose.
About Glendale Community College
Glendale Community College offers transfer-ready academic courses and job-specific occupational training to approximately 32,000 students annually. The main campus is located at 6000 W. Olive Avenue in Glendale and the North campus is located at 5727 W. Happy Valley Road. Opened in 1965, GCC is one of the 10 regionally accredited colleges in the Maricopa County Community College District, one of the largest community college districts in the nation. In the 2012-13 academic year, the district celebrates 50 years of providing accessible and affordable higher education.