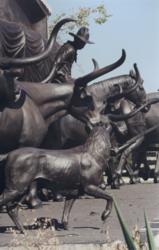 Duncan, OK (PRWEB) May 01, 2013
24th Annual Chisholm Trail Stampede PRCA Rodeo is happening this Friday and Saturday night, May 3rd & 4th, at 7:30 pm nightly. Certain to be great family entertainment, come discover Duncan's strong western heritage.
Dell Hall, owner of Rafter H Ranch & Rodeo Livestock Co, will be the stock contractor again this year. He has some of the best bucking bulls and horses in the industry. He had six (6) head of livestock chosen for the NFR in 2012. Bull #81 Vertical Exit got 2nd place bull at the NFR and 2nd rank bull Go Round 9 at the NFR. He was also the rankest bull at the 2012 Prairie Circuit Finals Rodeo last year. Bull #E114 El Capitain got 4th Go Round Win Bull Riding at the NFR last year. Nine head of livestock were chosen for the 2013 RAM National Circuit Finals Rodeo in OKC. These bulls will be in Duncan May 3rd & 4th at the CTS PRCA Ram Rodeo - so don't miss the action.
Add in Announcer T.C. Long, plus World Champion Trick Rider - Dusta Kimzey, Miss Rodeo America, Canadian Valley Rangerettes, Bullfighters Greek Ellick, Jr and Jason Gibbs and you can see why this will be a great weekend of rodeo.
Advance tickets available at Crutcher's and Stockman's in Duncan, Frontier Feeds and Marlow Radio Shack in Marlow, Speedy Gee's in Velma and First National Bank in Comanche.
Advance Tickets: Adults $10.00 $12:00 at Gate
Children 12 & Under $5.00 at Gate
Under 3 Free