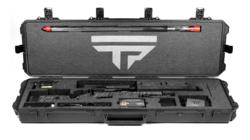 Austin, TX (PRWEB) May 01, 2013
Austin, TX-based applied-technology company TrackingPoint debuted their line of precision rifles - XactSystem Precision Guided Firearms - at the Consumer Electronics Expo this year, attracting extensive media attention. With video streaming technology, an integrated wireless hot spot ,and even an app, the TrackingPoint XactSystem is the most accurate long-range shooting system in the world, and its mission is to give both amateur and expert hunters real-time data to shoot with precision.
Technology news site Ars Technica, a trusted source for technology news, tech policy analysis, breakdowns of the latest scientific advancements, and gadget reviews of software and hardware, took their coverage of TrackingPoint's Precision Guided Firearms beyond a simple news writeup. They went behind the scope of the Linux powered rifle themselves, and wrote an extensive review on their website of the long range rifle.
Key technology innovations are what has made the TrackingPoint story so interesting to so many. The networked tracking scope runs a a modified version of Angström Linux (with custom BitBake recipes and kernel modules supporting the rifle's proprietary hardware). The precision optic is 35x fixed-magnification focused onto a digital imaging sensor with a vertical resolution of about 3600 pixels. The system also comes with specially crafted iOS and Android apps that stream video from the scope to tablets and phones, and allow for the recording and sharing of the precision rifle's shots.