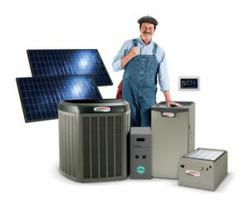 We value each of our customers and ensure that each customer gets complete satisfaction through our air conditioning repair service in Austin,TX.
Austin,TX (PRWEB) May 18, 2013
One of the premier air conditioning repair service providers based in Austin has created a great reputation among the home owners in the city as being one of the best a/c repairs and a/c installation services providers. Autumn Heating & Cooling is a certified ac company and is registered under the Texas Air Conditioning Licensing Board. This ac repair company takes immense pride to be one of the few air conditioning and heating system repairs and air conditioning installation service providers. The a/c service team are highly educated technicians who are adept in dealing with all kinds of heating and cooling systems irrespective of their make and the model.
A Name You Know and Trust
Lennox is one of the most precise and energy-efficient air conditioners, the most efficient and quietest furnaces, heat pumps, Wi-Fi enabled thermostats, air handlers, air cleaners, small-space comfort systems, boilers and more.
Air Conditioner Protection
The XC25 Air Conditioning System comes with a 10-year limited warranty on the compressor and all remaining covered components. The XC25 air conditioner has SEER rating up to 25 which can save you hundreds of dollars on your utility bills each year. This is one of Lennox's most efficient and advanced energy innovations; it carries a Green Signature badge and has earned the Energy Star label. The XC25 is also the best air conditioning system choice for the environment.
Heat Pump Protection
The XP25 Heating Pump System comes with a 10-year limited warranty on the compressor and all remaining covered components. The XP25 heat pump has a 23.5 SEER rating and 10.20 HSPF rating. Like the air conditioner it meets all the Green Signature Badge and Energy Star qualifications.
Great Features
The compressor is a variable capacity inverter controlled. This allows the system to stay at a set temperature and not change. This system uses the least about of energy to keep homes comfy. The High-efficiency outdoor coil provides exceptional heat transfer and low air resistance for high-efficiency operation that can lower cooling bills. Offers icomfort enabled technology that allows the system to optimize performance and efficiency by communicating with other home comfort system components.
The company is a registered company and is recognized by the Texas Air Conditioning Licensing Board, which authenticates every Austin air conditioning companies and certifies to operate in the region. Autumn Heating and Cooling takes pride in having the most talented, educated and highly skilled air conditioning repair and a/c installation technicians in our team. No matter the type of air conditioning system you have at home and irrespective of the type and model of your AC system, the ac technicians can handle the installation or repair works in a professional way.
Shop online for great selections of air conditioning systems. Call Autumn Heating & Cooling today for more details on solar air conditioners.