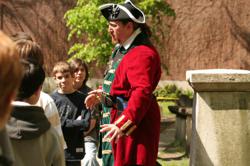 Scottsdale, AZ (PRWEB) May 02, 2013
From May 4-12, the U.S. tourism industry will be recognized during National Travel & Tourism Week.
"This annual celebration provides tour operators the opportunity to showcase their industry to the public," says Kendall Matthews, Director of Marketing at Appointment-Plus scheduling software. "It's also the perfect time to launch a marketing campaign to boost sales in advance of the summer vacation season."
According to a survey by Destination Hotels & Resorts, 40 percent of respondents are actively planning their summer vacations. This contrasts with "flash-sales" and last-minute deals popular during the post-recession boom of the past few years.
Take advantage of this trend with an effective marketing campaign during National Travel & Tourism Week.
Here are four marketing tips to accomplish this:
1. Send an email newsletter.
One of the best ways to promote your services is through a direct message to newsletter subscribers. These are individuals that have voluntarily signed to receive your information, and the likelihood of them reading about your promotion is higher than other marketing communication.
And since most of your customers own a mobile phone, the chances of them reading the newsletter are even higher. According to a survey conducted by security app Lookout, 58 percent of U.S. smartphone owners check their phones at least every hour.
2. Advertise the special on your Web site.
A company's Web site remains the number-one place customers go to for information. This is especially true in the hospitality and tourism industries.
EHotelier.com revealed that nearly 90 percent of customers prefer to go to the company's website rather than a Facebook Business page for information on the business.
3. Promote heavily on social media.
While a company Web site may be the preferred source of company information, social media sites such as Facebook, Twitter and LinkedIn are still necessary components to your marketing campaigns. This is especially true if you have a large number of "likes" and followers. These individuals are instantly informed of your special by e-mail once you post it.
Additionally, you can post exclusive specials available only to your social media fans. This builds loyalty and increases sales.
4. Inform the media.
Many newspapers run details on tour discounts and specials in their travel sections. Reach out to both local and out-of-state publications and share your discounts with their travel section editors.
Learn how Appointment-Plus tour scheduling software can help your tour business operate more profitably. Call 800-988-0061. Visit http://www.appointment-plus.com.
#
About Appointment-Plus: Appointment-Plus is the leading provider of online scheduling software for tour operators. It provides customer self-booking, automated notifications that reduce the no-show rate by 70 percent, and online credit-card processing. The software integrates with Facebook and Twitter.
For media and bloggers: If you're interested in interviewing an executive to learn more about Appointment-Plus, please e-mail us at erichard at appointment-plus dot com. If you're a blogger interested in sharing stories and guest articles, please contact us at the above e-mail.