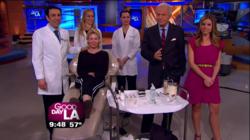 Los Angeles, California (PRWEB) May 01, 2013
Cosmetic products have always been infamous for their petroleum and polymer laced ingredients. According to an April 24, 2013 Fox News article, major cosmetics brands have recently been substituting botanicals for synthetic compounds. These natural products are reported to be effective in reducing cellulite and dark circles under the eyes. However, is the use of botanicals just a passing fad or is it here to stay? (Go to goo.gl/edD4V)
"As the developer of my own line of skin care products, I'm always interested in new ingredients, particularly those that can effectively substitute for petro-chemically derived products," says Dr. Simon Ourian, Medical Director of Epione Beverly Hills.
The report notes that from the consumer perspective, botanicals are exotic and luxurious. Plants that originate from Africa and the Amazon receive particular interest and have the potential to sell for hundreds of dollars. The names of the plants themselves, kangaroo paw flower or moonflower, for example, can invoke a feeling of luxury.
According to the Fox News article, the largest percentage of botanical ingredients is used in leave-on creams. While it may be fine to use strong chemicals for washing the skin, most people are not comfortable with leaving these products on their body for several hours. Botanical products have a reputation for safety, so buyers may be less concerned about the product damaging their skin in the long run.
The report states that botanical ingredients hold a large share of the market, but there are very few of them that have had sustained success. Like any other ingredient, botanicals are dependent on market interest. There haven't been any "breakthrough" results in botanical treatments, so for now consumers appear to be just buying them because it is a trendy thing to do.
"Although botanicals may be considered to be a market fad," says Dr. Ourian, "I believe that these ingredients are here to stay. With public health awareness continuing to grow, people are more concerned about eating healthy and using products that will not harm their bodies. As long as the emphasis on health and ecological awareness is sustained, we will continue to see natural ingredients in cosmetic products."
Dr. Ourian has been a pioneer in laser technology and non-invasive aesthetic procedures including Restylane, Juvéderm, Radiesse and Sculptra. These treatments are used for the correction or reversal of a variety of conditions such as acne, acne scars, skin discoloration, wrinkles, stretch marks, varicose veins, cellulite, and others. More information about botanical ingredients in cosmetics can be found on Epione's website.