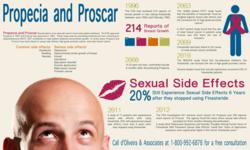 (PRWEB) May 06, 2013
Alleging that the hair loss drug Propecia lead to his prolonged sexual dysfunction, an Illinois man filed a claim against Merck in Pennsylvania Eastern District Court (case no. 2:2013cv00659). According to court documents, on February 5th, 2013 the lawsuit was filed by the plaintiff on claims that Merck should have known the increased risk of side effects associated with Propecia such as sexual dysfunction.
The law firm of d'Oliveira & Associates is working with some of the leading Propecia lawyers in the country handling Propecia cases and want the public to know that they offer a "No Win No Fee Promise" for current or former Propecia users who have allegedly developed either breast or prostate cancer or suffered a permanent sexual dysfunction as a result of propeica use. This means that you would pay no legal fee unless and until you receive a settlement or award of your Propecia claim and or Propecia lawsuit.
ABC News reported in a July 2012 story that the popular hair-loss drug, Propecia, has been linked to its increases in its users developing permanent sexual dysfunctions (i). ABC News referenced a study that was published in the Journal of Sexual Medicine and conducted by researchers at George Washington University that found Propecia's use poses a significant threat to incompetence in its users. According to the study by the Journal of Sexual Medicine, Propecia's side effects may persist for months or years after discontinuing use of the drug (ii).
Marketed by Merck & Co., Inc., Propecia is a commonly used drug meant to stop hair loss in men that was approved by The U.S. Food and Drug Administration (FDA) in 1997. In the 15 years since its approval, Propecia has been the center of several international studies examining the drug's link to sexual dysfunction and possible association to both breast and prostate cancer. The FDA cited a study conducted by the Medical Therapy of Prostatic Symptoms, when it announced that it was not ready to rule out the possibility that Propecia increases a user's risk of developing breast or prostate cancer (iii). Also an August 2011 article from Health Canada had reached a similar conclusion when it received numerous reports of Propecia users developing male breast cancer (iv).
In addition to Propecia's alleged links to breast and prostate cancer, the drug has now been criticized for its connection to causing long-term and permanent sexual dysfunction in its users. In 2008, the Swedish Medical Products Agency investigated the alleged risk and urged Swedish authorities to force Merck to include in its warnings the possibility for "persistent erectile dysfunction (v)." As found in a George Washington University study, researchers had found that users of Propecia, who showed no symptoms of dysfunction prior to the study, had a significantly increased risk for sexual dysfunction (vi). Additionally, the study found that for those men suffering from sexual side effects from using Propecia; 96% of them reported it lasting for over a year even after stopping Propecia use (vi).
To help protect the rights of individuals who may have suffered sexual dysfunction or even alleged breast or prostate cancer while using Propecia to treat hair loss, d'Oliveira & Associates is offering a No Win, No Fee Promise. Those who choose to hire d'Oliveira & Associates will be charged no fee unless they recover monetary damages, such as through a settlement or judgment.
If you or one of your loved ones has been injured by Propecia, you may want to speak with a personal injury lawyer regarding a dangerous drug claim. A Propecia lawyer familiar with new developments in the litigation of the drug Propecia may be able to help you make important personal and legal decisions. d'Oliveira & Associates, P.C. is working with some of the leading Propecia lawyers and dangerous drug attorneys in the country who are handling these cases.
Please contact the law offices of d'Oliveira & Associates, P.C. at 1-800-992-6878 or fill out a contact form for a free legal consultation.
Sources:
(i) abcnews.go.com/Health/baldness-drug-propecia-long-lasting-possibly-permanent-sexual/story?id=16758123#.UGnwPE2xJok
(ii) onlinelibrary.wiley.com/doi/10.1111/j.1743-6109.2011.02255.x/abstract
(iii) http://www.fda.gov/Safety/MedWatch/SafetyInformation/ucm208701.htm
(iv) cbc.ca/news/health/story/2011/08/04/finasteride-breast.html
(v) http://www.news-medical.net/health/Finasteride-Side-Effects.aspx
(vi) http://www.medicalnewstoday.com/articles/247858.php