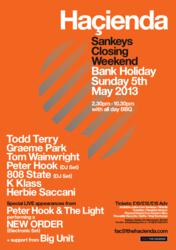 I'm a great admirer of Sankeys and also David Vincent, who's proved to be a very loyal supporter of The Hacienda so I'm happy to send him off into the sunset and I'm also very honoured to be asked to play at the closing party.
(PRWEB UK) 2 May 2013
Two Manchester clubbing institutions that shaped the city's dance scene for three consecutive decades, Sankeys took the baton from the passing of The Hacienda to become another of the most renowned underground clubs in the world.
A DJ policy that championed emerging talents and residents alongside world famous guests, the club will be forever etched in the memories of its crowd with performances that have already passed into legend.
We have had some fantastic shows at the club over the years and we feel it's apt that we give Sankeys the proper Madchester send off it deserves, as it takes leave of the rainy city for sunnier straits. Sankeys, you will be missed.
The Hacienda's special Sunday all day Sankeys closing party sees Hacienda and Sankeys veteran Todd Terry headline while the former Saturday night residents pairing of Graeme Park and Tom Wainwright come back together to send the club off with fondness.
The Northern House tradition is upheld by 808 State DJ's and K Klass with Hacienda Records' Super White Assassin and Herbie also laying down their own particular grooves.
Peter Hook & The Light perform a "New Order Electronic Set" featuring special highlights from their acclaimed sold out Manchester Cathedral performance earlier in the year whilst up and coming "acid rock" band Big Unit, led by 808 State's Darren Partington perform a special set following their well received and well attended Gorilla concert earlier this month.
With Sankeys exterior open during the day, a barbeque will be available during the event.
"I'm a great admirer of Sankeys and also David Vincent, who's proved to be a very loyal supporter of The Hacienda so I'm happy to send him off into the sunset and I'm also very honoured to be asked to play at the closing party. David was inspired by The Hacienda and used to promote there, both clubs share a lot of mutual friends and similar traditions, and both have managed to keep Manchester entertained for more than thirty years. Sankeys has always been a place for up and coming DJ's to play, they've always championed new artists in their music policy and remained on the cutting edge, I'm sure that Sankeys Ibiza will retain the same musical integrity. I'm sorry to see them go."
Peter Hook April 2013
Haçienda – The Sunday All Day Closing Party @ Sankeys
Sunday 5th May 2013 / 2:30pm to 10:30pm
Facebook Event: https://www.facebook.com/events/146106752236095/
Sankeys, Radium St Manchester, M4 6JG
Tickets £10 Earlybird £12 / £15 Advance
Available from Fatsoma, Skiddle, Ticketline
Line Up – DJ's – Todd Terry, Graeme Park, Tom Wainwright, 808 State DJs, K Klass,
Super White Assassin (DJ Set), Herbie
Live - Peter Hook & The Light (New Order Electronic Set), Big Unit