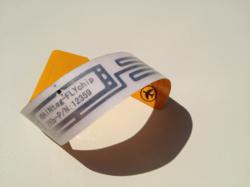 MAINtag was first to tag life vests and seats, being chosen by Airbus in 2010 for RFID parts marking onboard A350 XWB aircraft.
Atlanta, Georgia (PRWEB) May 14, 2013
With more than 50,000 single and dual-record FLYchip® units in service since the product was released in January, the aircraft industry has welcomed MAINtag's newest addition to its full ATA-compliant technology. "Airlines, OEMs and aircraft manufacturers are now using MAINtag's technology for numerous applications," said MAINtag President and CEO Bruno Lo-Re.
Less time, less money, more efficiency. That's what MAINtag brings to the airline assets management world with the introduction of FLYchip®, a new fully compliant ATA Spec 2000 (newest version 4.0) silicon chip in single- and dual-record formats. FLYchip comes embedded in the FLYtag range of RFID tags for parts marking of life vests, seats, medical kits, oxygen generators, in-flight entertainment systems, TSA equipment, and other flyable parts with life cycle or expiration dates requiring inspection and inventory check.
Using RFID technology takes about a quarter of the time otherwise spent with manual inspection, and the ability to acquire a high performance, fully compliant RFID package from a single source provides even greater time and cost efficiency.
"FLYchip is now part of MAINtag's customer oriented strategy – to be a one-stop resource for aerospace RFID tags, data-containing chips, RFID readers, software and support services. MAINtag's R&D shows that the FLYchip solution outperforms other options," said Lo-Re.
One reason why MAINtag has become the world leader in aerospace RFID solutions onboard aircraft is that MAINtag is dedicated solely to flyable RFID for the aerospace industry. The entire FLYtag product range is ATA Spec 2000-compliant. MAINtag is AS9100 certified. MAINtag was first to tag life vests and seats, being chosen by Airbus in 2010 for RFID parts marking onboard A350 XWB aircraft.
FLYchip® specifications and features:

Silicon chips supporting contactless UHF technology
ATA Spec 2000 Ch. 9-5-compliant (meets all standards for newest version)
Single- and dual-record formats (2kbits)
Multi-record format (8KBytes) soon to be released
Data retention over 30 years
EPC Class1 Gen2 - ISO 18000-6C
EPC structure complies with the most recent TDS 1.6 standard
MAINtag is the world leader in RFID aerospace RFID. To learn more about RFID technology for the aerospace industry, download MAINtag's Solution Book at http://www.maintag.com. To reach MAINtag's Atlanta, Georgia office email americas(at)maintag(dot)com or call 404-492-6875. MAINtag is AS9100 certified.
About MAINtag, Inc.
MAINtag, originally established in France in 2004 for maintenance tagging, now provides flyable RFID technologies for the aerospace and defense industries through its FLYtag® brand. MAINtag is committed to providing its partners with reliable and secure products and services to support identification and traceability of flyable parts, ground service equipment, and tooling in order to improve logistics, asset tracking and maintenance processes. MAINtag is AS9100-certified.