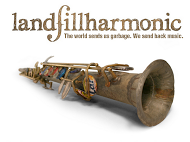 Scottsdale, AZ (PRWEB) May 01, 2013
Landfill Harmonic, a documentary that tells the moving story of "The Recycled Orchestra," is nearing its goal of completing filming by the end of 2013. The orchestra consists of a group of children from a shantytown called Cateura, in Paraguay, who play musical instruments made from trash. This week the film's crew will welcome 60 Minutes to join them in Paraguay as they continue to follow and film the orchestra.
This project began in 2009 and has been a labor of love for current Phoenix resident and philanthropist Alejandra Amarilla Nash, founder and executive producer of the project. Working alongside Nash is Phoenix-based producer Juliana Peñaranda-Loftus, and executive producing partner Rodolfo Madero.
"It has been an honor to have the opportunity to work on this film," said Nash. "The children from the orchestra show that you can find hope, creativity and empowerment just about anywhere with the support of your community and through the mutual love of music."
A Kickstarter campaign is also being used to raise funds for the project. If the campaign's initial goal is reached by May 15, the film could be completed by the end of this year.
With two weeks left of the Kickstarter campaign, close to 4,000 people and organizations have pledged more than $150,000 to show their support for bringing music to underserved children and youth. But Landfill Harmonic still needs help to reach the ultimate goal of expanding the movement all over the world to reach as many children and youth as possible.
"We hope to expand these efforts not only in Paraguay, but to other countries where we can make a difference one note at a time," said Nash.
To learn more about the film or how you can be a part of "The Recycled Orchestra" movement, visit: http://www.landfillharmonicmovie.com/.
About Landfill Harmonic
A film about "The Recycled Orchestra," a group of children from a Paraguayan slum who play instruments made entirely of garbage. It is a beautiful story about the transformative power of music, which also highlights two vital issues of our times: poverty and waste pollution. The world generates about a billion tons of garbage a year. Those who live with it and from it are the poor – like the people of Cateura, Paraguay. And here they are transforming it into beauty. Landfill Harmonic follows the orchestra as it takes its inspiring spectacle of trash-into-music around the world.
About Alejandra Amarilla Nash
Integrating philanthropy and a commitment to community service into her daily life and vision, Alejandra has aided a variety of social causes, previously putting her efforts behind Free Arts of Arizona through the documentary film Unleashing Creativity, which she co-directed. Born in Asuncion, Paraguay, Alejandra dreamt of the opportunity to help her country in a creative way, bringing awareness to issues that revolve around children and women. The idea of a documentary became the first step in that direction. Landfill Harmonic, her latest endeavor, hits close to home and has become her love project.
Media Contact: Diane Smith, Martz Agency, dsmith(at)martzagency(dot)com, 480-998-3154.