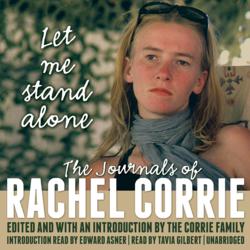 Rachel's story exemplifies how one person can embody courage and stand for human rights by being willing to be part of something bigger than themselves.—Tavia Gilbert, 'Let Me Stand Alone' audiobook producer and narrator
Ashland, OR (PRWEB) May 06, 2013
"Let Me Stand Alone" is a selection of Rachel Corrie's journals and letters as chosen by her family; it reveals her story in her own hand, from her precocious reflections as a young girl to her final e-mails. Coinciding with the 10th anniversary of Rachel Corrie's death, Blackstone Audio, Inc. in partnership with Talkbox, LLC, award-winning narrator Tavia Gilbert's production company, will release "Let Me Stand Alone" in audiobook format. Emmy Award–winning actor Edward Asner, best known for his roles in "The Mary Tyler Moore Show", "Up", and many other credits in a career spanning more than 50 years, narrates the moving introduction, written by Rachel's devoted father, Craig Corrie. "Let Me Stand Alone" audiobook producer and narrator Tavia Gilbert says, "I wanted to bring to life the voice of a brave, fiercely intelligent, passionate young woman in order to keep her message of hope and peace alive."
Rachel Corrie's determination to make a better, more peaceful world took her from Olympia, Washington, to the Middle East, where she died in 2003 while trying to block the demolition of a Palestinian family's home in the Gaza Strip. Those who know only the shocking circumstances of Rachel's death may be surprised to discover that Rachel was a funny, self-deprecating, passionate, playful, young woman who loved life, her family, Pat Benatar, dancing, Russian culture, hard work, her community of Olympia, Washington, and most of all, her vocation as a writer.
Tavia Gilbert says, "Rachel's story exemplifies how one person can embody courage and stand for human rights by being willing to be part of something bigger than themselves." Edward Anser adds that "it's the Salt of the Earth, the unnameables, the unknowables, the 'little people' who give us grace, who by their sacrifice, ennoble us. Rachel Corrie is such a person. She may not have concretely decided to give up her life, but she went out there to battle Goliath and she steeled herself to project the image of a soul willing to sacrifice herself." Though her voice was prematurely silenced, through Gilbert's exquisitely produced audio performance of Rachel's contemplations, dreams, and insights, Rachel's voice will inspire, uplift, and offer hope to audiobook listeners.
"Let Me Stand Alone: The Journals of Rachel Corrie," by Rachel Corrie, is edited and with an introduction by the Corrie Family, narrated by Tavia Gilbert, introduction narrated by Edward Asner, and is available on Blackstone's retail site Downpour.com.
About Rachel Corrie
Rachel Corrie (1979–2003) was born into a middle-class family in Olympia, Washington. She became politically active in what she called "antiwar / global justice issues," homing in on US support for Israel against the Palestinians. She was an American member of the International Solidarity Movement and was killed by an Israeli Defence Forces bulldozer while attempting to protect a Palestinian home in the Gaza Strip.
About Edward Asner
Edward "Ed" Asner is an American actor best known for his Emmy-winning role as Lou Grant on "The Mary Tyler Moore Show," later continued in a spin-off series, "Lou Grant." He has made dozens of appearances—including voice-over work—on television shows and has recorded a number of audio books.
About Tavia Gilbert
Tavia Gilbert is an Earphones and Parents' Choice Award–winning producer, writer, narrator, and a multiple Audie Award nominee. "School Library Journal" has called the performances of this highly acclaimed actress "as close as you can get to a full-cast narration with a solo voice." She has narrated more than 150 multicast and solo-voice audio books and has appeared on stage and in film.
About Blackstone Audio, Inc.
Blackstone Audio, Inc. is now a part of UK audiobook publisher AudioGO—combined it is one of the largest audiobook publishers in the world, offering a catalog of nearly 20,000 audiobook titles and publishing close to 100 new releases a month. Blackstone provides superior content by acclaimed authors and award-winning narrators available on CD, MP3 CD, and digital downloads on the retail audiobook site Downpour.com, which also carries audio products from other major publishers and offers thousands of new titles each month.
For more information about this topic or to schedule an interview please contact Greg Boguslawski, Head of Wholesale Sales and Merchandising, Blackstone Audio, Inc. | Downpour.com • Phone: 541-488-6035, Ext. 41 • Email: Greg.Boguslawski(at)BlackstoneAudio(dot)com
Thank you for your interest.