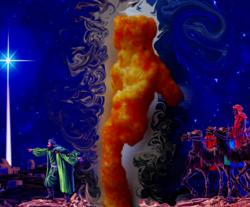 "Cheeto Art will change the way that the world looks at Cheetos, in my opinion this trully redefines art." Customer
(PRWEB) May 03, 2013
Artist and author Joel Jerome is on a mission to change the way that the world looks at cheetos with his amazing new art collection Cheeto's Art. This is a mind blowing collection of art featuring Joel's unique pictures of cheetos from his amazing and vast Cheeto collection. Joel (who is also a comedian and rapper) has been collecting cheetos off and on since he was a kid, and has thousands of cheetos in his collection including some that are over 25 years old. Over the last few years Joel has perfected his technique of taking pictures of cheetos and building backgrounds around them that seem to bring the snack to life. He manages to capture every detail in these orange fried snacks so you can actually see faces and body parts in his art. This is a special unique talent that truly redefines art by challenging the limits of the imagination and changing the way that the world will look at this cheesy American snack.
"There are over 3 million bags of cheetos sold every single day yet when most people look at them they see nothing more than a bright orange cheesy snack. My goal is to change that, I want people to take the time to see the beauty in something so common and simple yet complex, and that comes through in my art," said Joel.
In conjunction with his art Joel Jerome is also releasing his groundbreaking book Cheeto's...One Man's Art. The book is a collection of artistic pictures of cheetos that resemble celebrities, religious figures, mythical creatures, animals, athletes, and almost anything else that one could imagine. The book is a magical journey inside Joel's world of Cheetos detailing how a man turned his strange love for a snack food into unique works of art that have sold world wide. Cheeto's is an addictive colorful adventure full of interesting facts and funny antidotes that will engage readers whether they are lovers of the world famous cheese flavored snack or not. The book is available at Amazon.com and at the website cheetofreak.com.
To see the full collection of Art, Products, and Info go to http://www.cheetofreak.com.