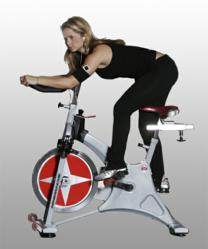 I mostly use iCYCLE in the gym and at home. I like that I don't have to think about how to get the most out of it... I just follow Mimi's lead! It's like taking the class with me on my mp3 everywhere, whenever I need it."
Los Angeles, CA (PRWEB) May 02, 2013
iTRAIN has released a new, 50-minute fearless cardio workout available for immediate download. iTRAIN's Spinning Set38 50Min with Mimi is an intense and effective cycling workout led by expert trainer, Milenna "Mimi" Saraiva.
"Mimi has years of experience working with elite clientele at some of the best health clubs in Los Angeles," said Sebastian Reant, CEO. "She holds several nationally-recognized certifications and understands how to help clients achieve the results they are looking for safely and effectively."
Want beautiful legs fast? The 50-minute, cycling workout is broken down into a combination of sprints and jogs, with resistance adjustments for each section. Saraiva also leads users through a traveling series, instructing them to move their bodies back and forth as they pedal, and finishes the session with a guided cool down and stretch. Look in the mirror… wow, that's what we call a result-oriented workout!
"Spinning Set38 is a cycling workout so, obviously, it has amazing effects on your legs, but Mimi also incorporates upper body presses as you ride, giving the user an intense and complete full body workout," added Sebastian Reant.
Each section of the workout is set and coordinated with a rhythmic soundtrack that helps users keep on pace with the beat.
Spinning Set38 50min with Mimi can be downloaded immediately and is one of many individually-sold iTRAIN workout programs available on the iTRAIN website.
About iTrain
iTRAIN is the premier source for downloadable fitness classes, a mix of the best music, HD videos and the top celebrity trainer voice-overs. iTRAIN's products are available for immediate download off of the website at a substantial discount over traditional physical personal training pricing. To date, iTRAIN changed 68,000 members' lives.