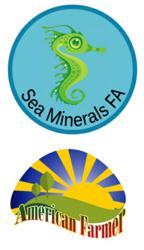 Siloam Springs, AR (PRWEB) May 02, 2013
Sea Minerals FA announced today they will be featured in an upcoming episode of American Farmer airing later this year via RFD-TV.
In this episode, American Farmer will explore how Sea Minerals FA produces major improvements in plant growth and improves the nutrient value of hay and grains grown on it. Audiences will be amazed by Sea Minerals FA's ability to enrich soils and produce hay and pasture that is strongly preferred by all types of livestock. In addition, viewers will learn about how animals grown with the advantage of access to Sea Minerals FA in their food mature earlier, are healthier, and noticeably heavier.
"We feel confident that the inclusion of the minerals extracted from pristine, clean sea water in all farming operations will dramatically improve the quantity and quality of production on American farms," said Dr. Lynn Buhr. "It will also reduce the need for other petroleum-based fertilizers products and reduce the cost of fertilizer by more than half. We are happy to be chosen by RFD TV and the American Farmer to bring this information to farmers at all levels."
Sea Minerals FA works as a soil fertility supplement that re-mineralizes the soil. Sea Minerals FA comes from very clean sea water. Tests have shown that this product contains all the minerals in the same proportions that those same minerals occur in the blood of healthy animals. Anyone who wants to improve the mineral content of their soil and vegetation can do so by applying Sea Minerals FA.
"As Dr. Murray explains in his book, 'animal and vegetable life in the sea is far healthier than similar life on land'," said Charles Cowan, producer for American Farmer. "Because of this, the advantages of Sea Minerals FA is helping to create enriched soils, and healthier and noticeably heavier livestock. I'm truly excited to be able to share this information with the American Farmer audience and can't wait to see how everything comes together."
About Sea Minerals FA:
Sea Minerals FA (feasible alternative) is an international company with distribution of Sea Minerals FA fertilizer in the United States, Canada, and Africa at this time. Sea Minerals FA provides soil with the necessary minerals and trace minerals to repair the condition of soil and dramatically improve the quantity and quality of production on American farms. Sea Minerals FA's goal is to make these products available to as many farmers in as many countries as possible.
For more information, visit: http://www.seamineralsfa.com or call 800-967-0452.
About American Farmer:
American Farmer is a breakthrough program on a mission to showcase the latest advancements in agriculture and farming. From seed to harvest, livestock and more, our producers have traveled the country covering the people, places and issues impacting all areas of farm country.
American Farmer airs Tuesdays at 8:30am EST on RFD-TV as well as Saturdays at 1:30pm and Midnight EST on RURAL-TV.
For more information, visit: http://www.americanfarmertv.com or call (866) 496-4065.
Media Contact:
Charlie Cowan, Producer
(866) 496-4065 x 875
charlie(at)americanfarmertv(dot)com