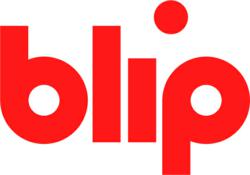 New York, NY (PRWEB) May 01, 2013
Blip CEO Kelly Day introduced the digital entertainment network's new strategy with a slate of new programming including web phenom Ray William Johnson, key partnerships with My Damn Channel [mydamnchannel.com] and FremantleMedia and new head of sales and marketing Jason Krebs.
In the past year, Blip has shifted its focus from a video distribution platform to a widely watched digital portal with millions of viewers worldwide. Offering one of the largest catalogs of original serialized content online with an expansive audience, Blip aims to develop fully integrated brand and content placement opportunities for advertisers in all consumer categories.
With the appointment of media industry veteran Jason Krebs to the Blip management team as President of Sales and Marketing, Day is integrating the company's expansive and seasoned ad sales operation into content development, marketing and distribution.
"The NewFront was the right time to introduce Blip's new direction of curated, brand-friendly content around audience interests," said CEO Kelly Day. "By bringing together the best content creators from Hollywood to YouTube, Blip is able to offer advertisers and audiences topical channels around strong brands and talent."
Talent was at the forefront of Blip's event today with the surprise announcement that web video favorite Ray William Johnson has signed with Blip for a development and distribution deal to provide seed funding for his new production company Runway Planet that will produce original new series and back catalog sales opportunities.
The Blip NewFront event was hosted by comedian-actor-writer Rob Huebel, who entertained the standing room only crowd and introduced his new Blip comedy series Mainly Murder.
The following series and partners were featured in Blip's presentation today.
New Series:
Mainly Murder: This comedy series follows a Long Island-based Murder Mystery entertainment company as they delight, scare and annoy their way across the outer boroughs of New York. Their dream is to one day make it to the big time - performing murder mysteries in NEW YORK CITY. And as they beg, borrow and steal their way to the "top", they'll get twisted up in each other's lives, for better and mostly worse.
Jewelry Star: Jewelry Star is a competition show where up-and-coming jewelry designers compete to create custom jewelry for celebrities and high profile clients. Hosted by two-time Emmy Award-winning stylist Soyon An, the series challenges these designers to create unique and inspired pieces that will be judged by An and her VIP clients.
The Great S. Cape!: Created, written and produced by uber producer Michael Uslan (Batman Begins, The Dark Knight, Dark Knight Rises) for Blip, the 12-chapter cliff-hanging movie serial is a live-action, film noir adventure series featuring new superhero Stephan Cape. Unable to support himself in today's world as a great magician and illusionist, Cape applies his amazing skills (and refusal to use a gun) to his newfound mission as a private detective. When he stumbles across the most insidious murder plot in today's Hollywood, secret and powerful forces set out to stop him at all costs! Can he out-fox the foxes and solve one of the deadliest mysteries in Los Angeles history? Newcomer Ian Duncan stars as escape artist extraordinaire, Stephan Cape.
Returning Series:
Hipsterhood: This ironic series from producer Shilpi Roy gets inside the minds of two Los Angeles hipsters who keep seeing each other around their Silver Lake neighborhood, but can't seem to take that next crucial step of actually...talking. The much buzzed about comedy returns for a second season.
The Gauntlet:
Also returning for a second season, The Gauntlet gives serious gamers and gaming super-fans from around the country a chance to compete in an epic video game competition that pits competitors against one another in an intense contest of gaming skills, concentration, agility and stamina. Inspired by reality competitions Wipeout and The Voice, The Gauntlet brings that passion for winning and chance for fame and fortune to the world of gaming.
Partnerships:
MyDamnChannel: MyDamnChannel will produce four original comedy series for Blip, including new seasons of MyDamnChannel hits Wainy Days and Daddy Knows Best, and two others currently in development. These series will premiere simultaneously on Blip and MyDamnChannel in exclusive 30-day windows, before being made available on other outlets, including YouTube. Sales teams from both companies will represent the new programming with advertisers, marketers and agencies targeting 18-34 year old fans of the best original series on the Internet. And for the first time, select series from the My Damn Channel library (going back to 2007) will be available on Blip, including Daily Grace and premium programming never before been seen by the Blip audience. This new partnership will bring brands the opportunity to reach a combined audience of nearly 40 million monthly unique viewers.
FremantleMedia: FremantleMedia and Blip are launching a brand-new Pet vertical on Blip powered by The Pet Collective. Fremantle is leveraging its key skills and talent in the digital space with an exclusive deal with Blip that offers Blip's audience the power of The Pet Collective's story-telling skills and high production values and enables FremantleMedia to expand The Pet Collective distribution across the web and cultivate new audiences. Featured series include The Olate Dogs and Henri the Cat.
-For more information on Blip's NewFront event, go to Blip.com/newfront [http://www.blip.com/newfront __title__ ]-
Blip is a digital media company that develops, produces and distributes quality original web content. At Blip.com, across the web and on mobile apps, viewers discover, watch and share the best in original web series. Blip attracts highly engaged audiences passionate about their favorite shows, from comedy and drama to tech and lifestyle. With the launch of original production arm Blip Studios and partnerships with YouTube, Yahoo! Screen, AOL and Xbox, Blip serves as an entertainment destination and a portal across the web. Since launching in 2005, Blip has evolved into the largest independently owned and operated digital video platform in the world and attracts hundreds of millions of views per month. Discover your Blip [http://www.blip.com .